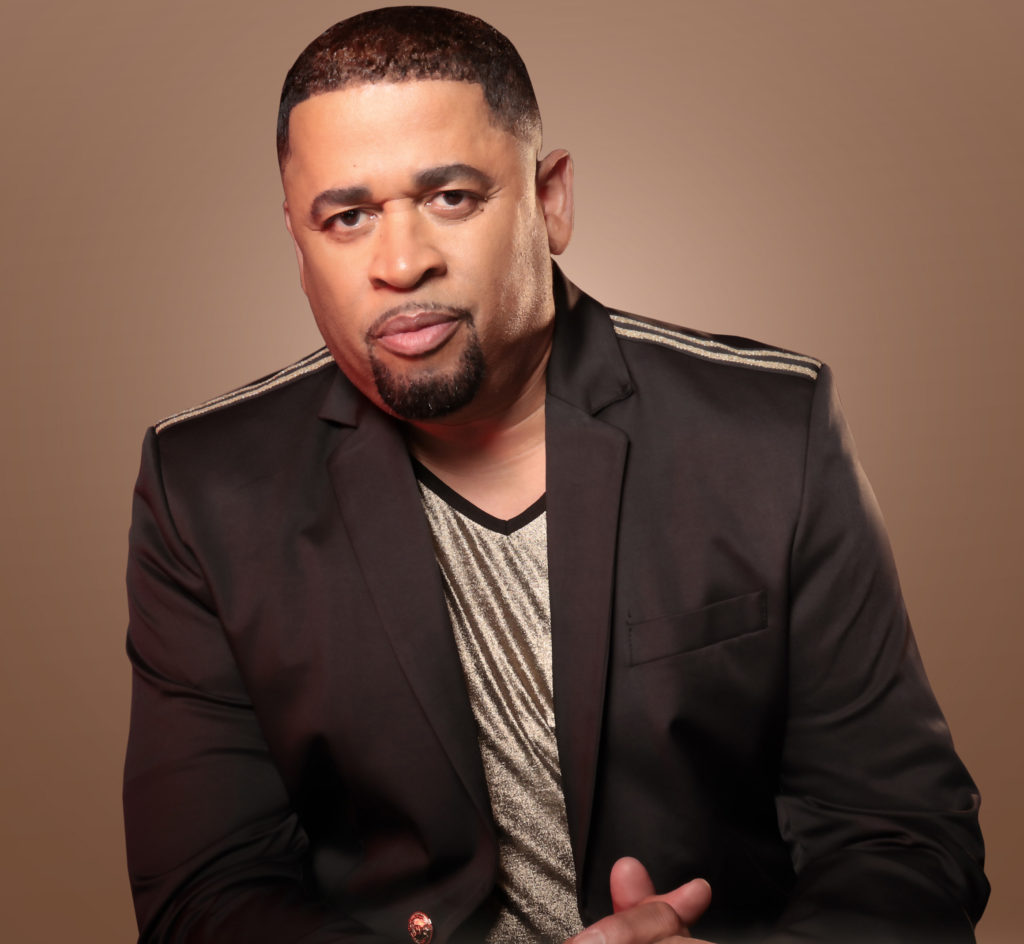 Award-winning artist Byron Cage, known as the "Prince of Praise," has made his mark on gospel music as a respected minster of music and through a series of chart-topping live albums and radio singles. His now-classic recording of The Presence of the Lord Is Here introduced the world to the contemporary worship song. Cage is credited as one of the artists who helped introduce and popularize Praise and Worship music in the African American church.
As a teenager, Cage—born December 15, 1962, in Grand Rapids, Michigan—was entranced by the musical innovation of fellow Michigander Thomas Whitfield. In his short but productive life, Whitfield broadened the contemporary foundation established by Andrae' Crouch and the Hawkins Family by incorporating complex jazz and classical music elements into gospel.
When Cage was choir director at Greater Grace Temple in Detroit, the church's bass player, Fred Hammond, invited him to join his new gospel group, Disciples for Christ (later renamed Commissioned). Cage's mother, however, preferred her son focus on his studies at Oakland University. The studies won out, and Cage earned a scholarship to Morehouse College in Atlanta. He moved to Atlanta, joined the Morehouse College Glee Club and discovered Bishop Eddie Long's New Birth Cathedral. He would become the church's minister of music and help Long expand the flock from a few dedicated adherents to more than 17,000 members.
In 1995, Cage launched his professional recording career by signing with Atlanta International Records. That year, Cage and his vocal group Purpose released their debut album, a live recording titled Dwell Among Us. Besides the title track, the album featured contemporary worship favorites The Blood and The Glory Song. Byron Cage and Purpose released a second live offering for AIR, Transparent in Your Presence, the following year. The album rose to No. 2 on Billboard's Top Gospel Albums chart.
GospoCentric Records, the label that launched Kirk Franklin's career, signed Cage as a solo artist in 2003. The first fruits of this partnership, Byron Cage: Live at New Birth Cathedral, appeared the same year. Produced by Kurt Carr, an architect of the Praise and Worship format, the album maintained Cage's presence on the Billboard Top Gospel Albums chart. It earned five Stellar Awards in 2004, including CD of the Year, Song of the Year (for the Carr-penned The Presence of the Lord Is Here) and Male Vocalist of the Year for Cage.
The much-anticipated follow-up album, 2005's An Invitation to Worship, was recorded live at New Birth Cathedral. Detroit's PAJAM songwriting and production team (Paul Allen, J Moss and Walter Kearney) produced the CD. Like its predecessors, An Invitation to Worship entered the Billboard Top Gospel
Albums chart, rising as high as No. 2. It was nominated for Stellar, Grammy and NAACP Image Awards. A single, I Will Bless the Lord, was named Song of the Year at the 2007 Stellar Award ceremony.
Cage brought PAJAM back to produce 2007's Live at the Apollo: The Proclamation, which featured guest appearances by Dave Hollister, J Moss, Kim Burrell and Kelly Price. Two years later, Cage returned to Michigan for Faithful to Believe. Recorded live at Detroit's Second Ebenezer Church, the album featured guest vocals by Tye Tribbett, Karen Clark Sheard and Marvin Winans. Memoirs of a Worshipper (2012), with a special appearance by Fred Hammond, was recorded live at Christ Universal Temple in Chicago.
In 2014, Cage signed with Pastor Charles Jenkins' Inspired People imprint. The following year, he was featured on Jenkins and Fellowship Chicago's Any Given Sunday, joining Jonathan McReynolds on Just to Know Him.
Byron Cage serves as minister of music at Ebenezer AME Church in Fort Washington, Maryland, and at The Saint Paul's Baptist Church in Richmond, Virginia.