The 32nd Stellar Gospel Awards are shining bright on Malaco Gospel!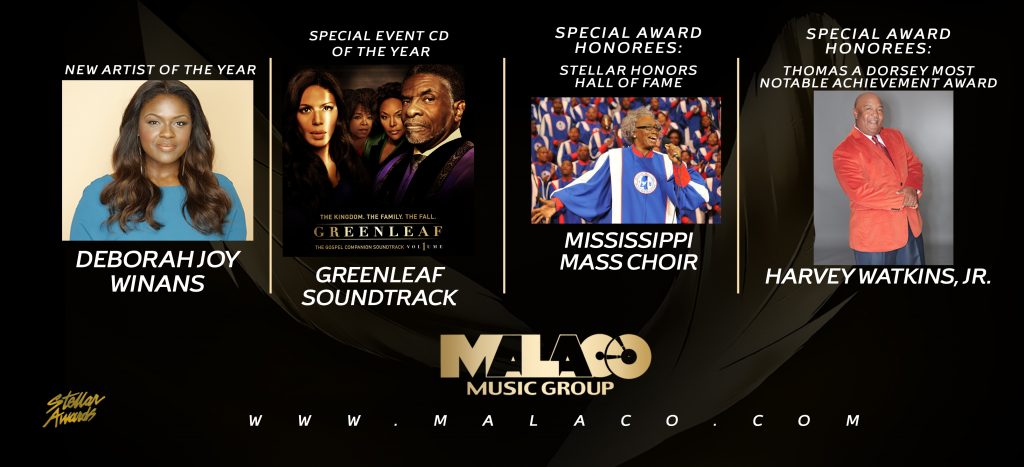 Malaco Records continues to expand its legacy as a pioneering powerhouse in Gospel music. There are 2 honorees and 2 nominees for this year's annual Stellar Gospel Music Awards that we are excited to have on our roster.
Harvey Watkins Jr. has led an esteemed career as one of the leading voices in Quartet Gospel Music. His work with The Canton Spirituals has helped to put the small town of Canton, MS into the spotlight and the innovative sound of the group has made a lasting impression on the Gospel Music landscape. He along with the group have won twelve Stellar Awards and been nominated for two Grammys. He first began performing while still in Elementary school and went on to join The Canton Spirituals as a bass guitar player and background vocalist in 1974. After his father, Harvey Watkins Sr., passed away in 1994 he took the reins and led the group from then on. We are very proud to announce that Harvey Watkins Jr. will be honored at The 32nd Annual Stellar Gospel Awards as the recipient of the Thomas A. Dorsey Most Notable Achievement Award.
The Mississippi Mass Choir has maintained a prolific career in Gospel music since it was founded by Frank Williams 29 years ago. In 1989, they made their national television debut on the 4th Annual Stellar Gospel Awards and took home the awards for Choir of the Year, Artist of the Year, Record of the Year and Music Video of the Year. Their mega hit "I'm Not Tired Yet" is being used as the opening theme music for ESPN's midnight edition of Sportscenter hosted by Scott Van Pelt. The Mississippi Mass Choir will be inducted in the Stellar Hall of Fame at the 32nd Annual broadcast, which airs on March 25.
Deborah Joy Winans is living up to the legacy of her family name. Her performance of "The Master's Calling" on The Greenleaf Gospel Companion Soundtrack is breathtaking, especially considering it is her first recording as a solo artist. In addition to her music aspirations, she also holds the role of Charity Greenleaf-Satterlee on the OWN Network hit series Greenleaf. She is nominated for Best New Artist.
The Greenleaf Gospel Companion Soundtrack is a compilation of the musical performances featured on the series. The album featured Gospel greats such as Shirley Caesar and Dottie Peoples; as well as rising newcomer Deborah Joy Winans. The show ran on the OWN network and received much acclaim for its dynamic soundtrack. It is nominated for Special Event CD of the Year.
Please help us in congratulating them and be sure to tune in this Saturday evening to see all of the great talent being awarded from right here at Malaco Records. The 32nd Stellar Gospel Awards are shining bright on Malaco Gospel!