New Google Pixel 3a Ad With 2 Chainz Features Music by Malaco Artist The Truthettes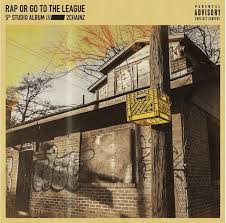 Rapper 2 Chainz' fifth studio album, Rap or Go To The League (2019), features a sample from Malaco Records artist, The Truthettes. The album's hit single, "Threat 2 Society", samples "So Good To Be Alive" from The Truthettes' 1980 album, Child's Prayer. Rap or Go To The League was a partnership with basketball superstar, LeBron James, who worked as A&R for the project and was heavily involved in the creative process. James is becoming more involved in other forms of entertainment besides sports. On top of helping produce Rap or Go To The League, he is starring in a Netflix series about Madame C.J. Walker with actress Octavia Spencer as well as working on Space Jam with film director, Ryan Coogler. James stated in an interview with Vanity Fair that as a child, he believed the only way he could move to a better neighborhood and create a better life for himself was either through becoming a rapper or an athlete, hence the album title. James' expanding his career past athleticism shows how he is helping to influence children who are growing up in a similar situation to his childhood to do whatever they want in life. He stated in the same Vanity Fair article that Rap or Go To The League is somewhat his political and spiritual stance on opening doors for young black people.
The albums hit single "Threat 2 Society" is featured in the latest promotion for the Google Pixel 3a as rapper 2 Chains and singer Awkwafina sit in nail salon chairs complaining about needing cooler cellphones. You can hear a snippet of "So Good To Be Alive" at the end of the advertisement.
Link to Vanity Fair article: https://www.vanityfair.com/style/2019/03/lebron-james-2-chainz-rap-or-go-to-the-league-interview
The Truthettes – So Good To Be Alive: 
Google Pixel 3a commercial: