Mr. Sipp's New Album "Knock A Hole In It" Receiving Rave Reviews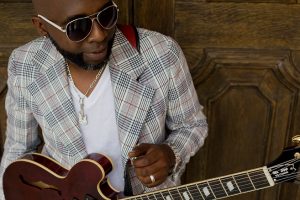 It seems as though Mr. Sipp can do no wrong on his latest release. The word is in and the critics are absolutely loving every minute of it. Many are enjoying his undeniable ability to make the guitar scream, groove and even whisper sweet nothings. The variety of sound styles and vocal modes at play on the record have also been garnering accolades.
James Nadal of AllAboutJazz.com had nothing but great things to say in his review:
"This is a solid set of high powered electric blues that not only exhibits his guitar prowess and songwriting skills, but the range of his vocal capabilities as well. Mr.Sipp proves that he is the real deal when it comes to interpreting modern blues and soul. His prodigious ability to navigate all the intricacies of the blues, in all its forms and styles, sets him apart."
MidwestRecord.com says Sipp isn't playing around:
"Since the locals corrupt "Mississippi" into Miss Sipp, you get a laugh right away with this blues bad boy's alter ego. The laughs end there. A deadly serious player already at the top of his game, he's revolutionizing blues ala Muddy Waters did after the northern migration. Electric and electrifying, the Sippster is right in touch with today and well knows how to tear it up contemporary style."
Sipp is also receiving a lot of great feedback from European Blues outlets. It's great to see that he is helping to continue the odd couple pairing that started back when The Rolling Stones skyrocketed to fame playing covers of blues great Muddy Waters.
Blues.GR hailing from Germany states:
"This is the work of a true Bluesman. He's bringing his six-string finesse to create classic Blues guitar magic paired with a modern sensibility in his songwriting."
Mr. Sipp is cementing his legacy and making a strong bid at becoming a future legend with each release. It seems that this album lived up to his name because the good reviews and playlist features just keep pouring in.
Purchase or stream Knock A Hole In It  today to see what all the hype is about.
Spotify: http://spoti.fi/2nLB8fb
iTunes: http://apple.co/2nbs0AQ
Google Play: http://bit.ly/2lBvbp7