Mr. Sipp Featured On The Friday Blues Fix Blog
Graham Clarke of the Friday Blues Fix Blog did an outstanding job reviewing Mr. Sipp's latest album "Knock A Hole In It". The project was featured as part of the site's Blues Bytes section and received praise for it's innovative mixture of old school Blues style and modern sensibility. Read the full article below: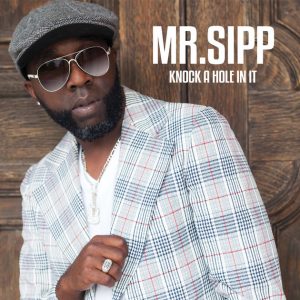 Knock a Hole in It
Mr. Sipp, The Mississippi Blues Child, is the alter ego of Castro Coleman, a renowned gospel guitarist who has appeared on over 50 gospel recordings and won numerous awards while playing for such groups as The Williams Brothers, The Pilgrim Jubilees, and The Canton Spirituals, along with his own group, The True Believers.  In 2010, he decided to give the blues a shot and has wowed audiences with his singing, guitar work, and songwriting.  He won regional honors and competed in the I.B.C. in 2013, where he made the finals, and in 2014, where he won the overall Band title and the Gibson Guitarist Award.
Sipp's previous album, 2015's Malaco Records' release The Mississippi Blues Child was well-received by a large group of blues fans……contemporary, urban, soul/blues fans who dug his songwriting and vocals and blues/rock fans who were blown away by his guitar skills.  His latest Malaco effort, Knock A Hole In It, improves on all counts, with Sipp turning in a dozen new songs that touch on all of the above-cited genres, plus one mighty impressive cover tune.
The title track opens the disc and serves as an autobiographical track of sorts, a nice introduction to those new to Mr. Sipp and his music, which manages to cover most of his musical territory in about four minutes.  The energetic "Bad Feeling" is a thoroughly modern blues tune which combines blues with R&B, and "Stalking Me" continues the R&B groove behind a lighthearted theme.  "Sea Of Love" and "Baby Your Mine" are both smooth ballads with pop edges that really showcase Sipp's considerable vocal talents.
"Gotta Let Her Go" and "Going Down" both showcase Sipp's guitar, the former in more of a rugged rock vein and the latter lacing a healthy dose of funk behind the fretwork (both are served well by Carrol McLaughlin's B3 backing).  Speaking of funk, Sipp brings plenty of it to "Juke Joint," another keeper backed by Howlin' Wolf's "Smokestack Lightnin'" melody.  "Strings Attached" is a R&B-styled smoky ballad with an appropriately pleading vocal from Sipp, and "Love Don't Live Here Anymore" follows a similar theme.
The upbeat "Turn Up" will bring a smile to the faces of longtime Malaco listeners, as the punchy horn track and loose-limbed rhythm will remind soul/blues fans of Tyrone Davis, while "Love Yourself" is a message of encouragement to women with low self-esteem.  For the closer, Sipp offers up a scintillating cover of Jimi Hendrix's "Little Wing," hitting all the right notes for Hendrix fans while taking time to expand upon the guitar legend's original with dynamic results, even throwing in a version of the "Star Spangled Banner" at the close.
Again serving as producer (with Tommy Couch, Jr. as co-executive producer), Sipp does the lion's share of the work here, playing guitar, bass, strings, and arranging horns with the late Harrison Calloway.  McLaughin's contributions on piano and organ are superlative, with Jeffrey Flanagan (bass) and Stanley Dixon or Murph Calcedo (drums) helping set the pace, along with The Jackson Horns (Kimble Funches – trumpet, Jessie Primer III – tenor sax, and Robert Lamkin – trombone).
Knock A Hole In It is a fantastic example of modern-day blues by a modern-day bluesman who will make quite a mark on the entire blues genre before he's done.  Mr. Sipp's brand of blues should appeal to blues fans across the board.
Graham Clarke
Friday Blues Fix Blog
Blues Bytes