Malaco Records Joins Houston Relief Efforts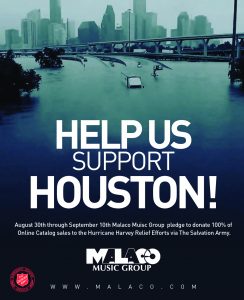 As you know, Houston, TX has been devastated by the Category 4 Hurricane Harvey. The city is flooded and many people have lost their homes, jobs, and livelihoods.
Over the years, Houston has shown great support to Malaco Records and now it's time for us to return the favor.
August 30th through September 10th we pledge to donate 100% of the sales from our Online Catalog to the Hurricane Harvey Relief Efforts via The Salvation Army.
Please help us give back to the people that have lost so much by buying your favorite album, performance DVD or other items. Thank you for your support.
Malaco Online Catalog: http://bit.ly/2wosCsz
#Hope4Houston #HurricaneHarveyReliefEffort #MalacoSupportsHouston