Grady Champion Live At Duling Hall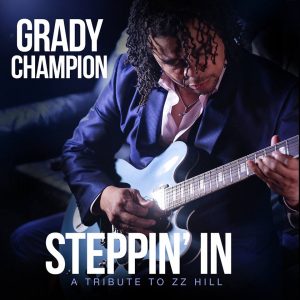 Mississippi based Grammy Award-winning singer/songwriter/musician, Grady Champion, will perform live at Duling Hall with Eddie Cotton and Henry Rhodes April 26, 2019, at 8 pm. Doors open at 7 pm. Individual tickets start at $25 and couples tickets are $45. VIP tickets are $50.00 and include a meet and greet, photo with Champion and an autographed CD. Tickets are first come, first serve to available seating.
Champion signed to Malaco Records in 2013 and his first full-length release with the label was released the following year. His album, Bootleg Whiskey, is one of the album highlights and establishes Champion as an authority for authentic Mississippi blues.
"I'm looking forward to the new album that is a tribute to Z.Z. Hill. It is an experience to be able to record the songs of my mother's favorite artist and with the label he recorded them. Man, it's a blessing," Champion stated in a Facebook live video promoting the upcoming performance at Duling Hall.
Champion was born Oct. 10, 1969, and grew up on a farm in Canton, MS within a religious household. The youngest of 28 children, eight-year-old Champion joined his church choir and realized his passion for music. He started in the music industry at age 18 as a promoter for rap label, Sun Town Records. Champion embarked on a brief career as a rapper in the early '90s, performing under the stage name, MC Gold. After discovering that he had a natural talent for the blues, Champion quit rapping and began incorporating hip-hop into blues music. At age 24, he worked for FJH Music under the owner, Frank J. Hackinson, a former president of Columbia Pictures. After learning full particulars of the music industry and learning to play the harmonica, Grady announced his self-released album, Goin' Back Home.
Champion was adopted by Shanachie Records, where he released Payin' for My Sins (1999) and 2 Days Short of a Week (2001). In 2003, Champion's song, co-written with Kevin Bowe, entitled "Trust Yourself" was included on Etta James' Let's Roll album (2003), won a Grammy Award for Best Contemporary Blues Album and a Blues Music Award as the Soul/Blues Album of the Year from the Blues Foundation in 2004.
Champion released his album Dreamin' in 2011.  The featured song, "Make That Monkey Jump" won a Blues Critic Award in the Best Down Home Blues Song category. "I play what I feel," says Champion, whose socially conscious lyrics and inspiring live performances have earned him a 2014 cover story in Living Blues Magazine. "I think blues has a bright future . . . you just gotta be able to hang in the game."
Champion has 180 tours scheduled for this year and his new album with Malaco Records will be released April 26, 2019.
Purchase tickets here https://bit.ly/2UYd5hT
Album Preorder link: https://malaco.lnk.to/kIUnD
** This show is presented in part by Capital City Beverages, Inc., Cathead Vodka, A2Z Printing & Find It In Fondren!