Gospel Crowns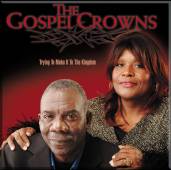 JoAnn Roberson and James Smith, better known as the Gospel Crowns, were a gospel duo from West Dallas, Texas, whose sound conjured up memories of golden era male-female singing pairs like the Consolers and the Gospel Twins.
JoAnn Voner Roberson provided the impetus for the group. Born to James C. and Elisie Voner on November 17, 1947, in Lawton, Oklahoma, and raised in West Dallas, Texas, JoAnn began singing with her brother, Wilford, at age seven. They sang on the back porch of their home until, with their mother's permission, they moved their performance space to the sidewalks of Bickers Street in West Dallas.
Some time in the 1980s, Roberson, married with children, desired to get back into singing, so she joined the choir at Friendship Baptist Church in nearby Waxahachie, Texas. From there, she became a member of a local quartet called the Holy Spiritualaires. She sang with other quartets during this time as well, but her powerful voice, better suited for lead singing, made it difficult for her to harmonize in the background for very long. Not needing another lead vocalist more than a harmonist, the groups would eventually "put her out," laughed JoAnn's daughter, Linda Voner.
Roberson and her daughter organized the Long Distance Gospel Singers some time in the summer of 1992 and they kept it going for five years until Linda's work schedule precluded her from continuing. During this time, Roberson met James Smith and joined his quartet, Divine Power of Dallas, Texas. After a year and a half the two, determined to start their own group, formed a duo in 1998 they called the Gospel Crowns.
In 2006, after several years of local appearances, the pair recorded Trying to Make It to the Kingdom. The eight-song album was produced by James "Hal" Smith for the Phoenix Entertainment Group and distributed by Malaco Music Group. Though the album's instrumentation is contemporary, Smith and Roberson sound like a traditional gospel quartet with their soulful voices and relaxed Sunday afternoon delivery.
Although the album did not sell particularly well, the Gospel Crowns maintained their presence on the gospel highway. Meanwhile, in addition to her steady diet of performing, writing and playing organ and piano, Roberson started her own music production company called Two Crowns. She was also a noted seamstress and sketch artist.
JoAnn Roberson passed away on June 25, 2019, at age 71. The Gospel Crowns were working on a second album prior to her passing, but only a couple of songs, including Promises, have been completed. "She could get a tune in her head and tell you exactly what she wanted you to do on the guitar, the drums, or whatever instrument," Linda Voner said. "Whatever she did, she did it from beginning to end."
—Robert M. Marovich