Framing The Red's New Album "Mississippi Heat" is On Fire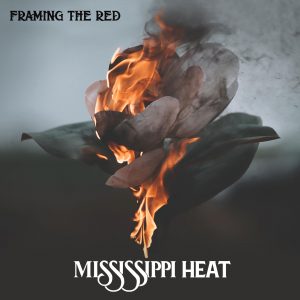 Southern rock and roll band, Framing The Red, released their third album, Mississippi Heat in May 2019.  The album is a representation of the band being from Mississippi and a dedication to rock and roll and blues, two genres known for starting in the south. This album is the bands take on putting the essence of Mississippi into music. Band members, Jordan Newman on vocals, Cody Smith on guitar, Kuan Calvert on bass and Caleb Franklin on drums, all stopped by Malaco last week to discuss the album.
"It's been interesting. It's about a year and a half of a lot of work in Malaco's studio. Every time we'd come off tour we'd be in the studio for two weeks straight working on the album and getting things prepared for the release. There's a lot of heart and soul in this record," Newman, FTR lead vocalist.
Framing The Red has shared the stage with major rock-n-roll artists including Motley Crue, Black Stone Cherry, and Saving Abel. Their current tour, Hell or High Water, is taking them all around the United States, starting in Welaka, Florida and ending in Grand Junction, Colorado. Although the band travels the country, they always return to Mississippi. In fact, they recently had a performance at Pop's Saloon in Jackson, MS.
"We always come home to Jackson; at least twice a year. This is our home base when we come off the road. All of the support from our hometown feels great," Newman added.
Why name the album Mississippi Heat, you ask?
"Wherever we go and mention Mississippi, the first thing people say is 'It's hot down there,'" said Franklin, FTR drummer. " Our take on the album was to portray Mississippi as much as possible. What better way than to call it hot? We also wanted to include that Mississippi soul sound while adding some southern sleaze rock to the album," Franklin added.
The album includes 11 tracks, starting with the band's 2017 "Mississippi Hippie". The album's single, "Holy Water", co-written with Chase Waters, a Jackson, MS native, is one of those songs that has am old, hill-country sound right from the start. It's a perfect introduction to Mississippi Heat. Things take on a darker tone in "Better Than the Whiskey", a song about fighting your inner demons, but lighten up again as the album draws to a close with "One Horse Town" which includes soft vocals and a mellow sound.
The band signed with Old Trace Records/Malaco Music Group in 2018 and have been on their Hell or High Water tour ever since. Mississippi Heat is now available for streaming and purchase.