Dorinda Clark Cole has signed with Malaco Records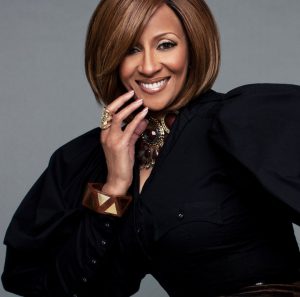 The Malaco Music Group is proud to announce that Dr. Dorinda Clark-Cole has signed to Malaco Records. Dorinda says, "I'm excited to be partnering with Malaco and I look forward to this new journey."
Dr. Dorinda Clark Cole has had an illustrious career in Gospel music. She started with her siblings in the legendary group The Clark Sisters before embarking on her solo career. She's a three time Grammy Award winner along with her sisters for their album Live – One Last Time. They took home the awards for Best Traditional Gospel Album as well as Best Gospel Performance and Best Gospel Song for the single "Blessed and Highly Favored".  
She has also won several awards as a solo artist. Her debut album Dorinda Clark Cole debuted in Billboard's Top 5 and garnered her two Stellar Awards, The Soul Train Lady of Soul Award, BMI Christian Music Award and many more accolades and nominations. Her sophomore album The Rose of Gospel also debuted in Billboard's Top 5 before receiving a Grammy nomination for Best Traditional Gospel Album and a Stellar Award.
Cole not only sings the Gospel but she preaches it as well. She is celebrating 40 years in the ministry and has traveled the world engaging crowds with her powerful words through sermon and song. She holds the position of Church Administrator at The Greater Emmanuel Institutional Church Of God In Christ, Assistant Vice President Elect in the National Church Of God In Christ and made history as the first woman to preach in South Africa.
In addition to music and evangelism, Dr. Cole is also the host of her own television and radio shows. The Dorinda Show airs every Sunday at 9 PM on Totally Christian Television and she hosts a monthly show on The Word Network called The Gospel According To Dorinda. Her voice can also be heard on the airwaves as the host of her syndicated weekly radio show, Serving Up Soul. She is married to Elder Gregory Cole with whom she has two children, Nikkia and Gregory Jr.
Mrs. Cole is currently working on her seventh solo project and is once again teaming up with Derrick Starks as her producer. They have collaborated in the past on songs such as "He Brought Me" and "Take It Back",which went on to win the BMI Trailblazer Song of the Year Award.
"Derrick wrote all of the songs on the new project specifically with me in mind. The songs are inspirational and help bring hope to those that are searching for God to make things happen in their life", states the aptly nicknamed "Church Girl".
There is currently no release for the new project. Stay connected with Malaco Records and Dorinda Clark-Cole for further details as they become available.