Wilmington Chester Mass Choir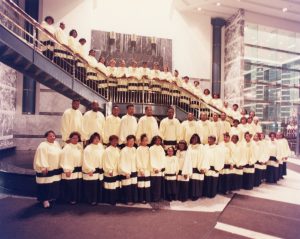 The multiple award–winning Wilmington Chester Mass Choir was organized on February 2, 1978, by the Reverend Ernest Davis Jr., from singers representing various churches throughout Delaware, Pennsylvania and New Jersey. The choir's name honors its two host cities of Wilmington, Delaware, and Chester, Pennsylvania.
The choir's first album, Victory Shall Be Mine, came out on Sweet Rain Records in 1988. The album not only introduced Ride on King Jesus, which would become a staple in the choir's repertoire, but it also represented the first recorded collaboration between the choir, gospel singer Reverend Daryl Coley and songwriter Carol D. Antrom.
The choir's second album, and its first for Atlanta International Records, was 1990's He's Preparing Me. It spent more than a year on the Billboard Top Gospel Albums chart, and the title track earned the choir a Stellar Award for Song of the Year. Soul songstress Patti LaBelle invited the choir to support her on When You've Been Blessed (Feels Like Heaven), featured on her Grammy Award–winning 1991 album, Burnin'. But the year was bittersweet, as Rev. Davis passed away. Prior to his death, Rev. Davis handed choir leadership to the Reverend Christopher Squire, so the group pressed on, saddened but unwavering in its mission. In memory of its founder, the choir was often referred to as Rev. Ernest Davis Jr.'s Wilmington Chester Mass Choir.
Another Wilmington Chester Mass Choir album of note is Stand Still (AIR, 1992), which showcased the lead vocals of Soul Children of Chicago alumna Lecresia Campbell on the title track. Hosanna! "And They Sang the Word" (AIR, 2000) included songs and direction from such leading lights as A. Jeffrey LaValley and Maurette Brown Clark, and brought the choir its first Grammy Award nomination in 2000. Before it left AIR for Emtro Gospel, the choir recorded its sixth album for the label, Live in Concert (2001).
The Wilmington Chester Mass Choir's album He's Been Good (Emtro, 2010) garnered the group two more Stellar Awards in 2011: Choir of the Year and Traditional Choir of the Year. The choir has appeared on television numerous times, including on BET's Bobby Jones Gospel, Willie Wilson's Singsation and the United Negro College Fund Telethon.