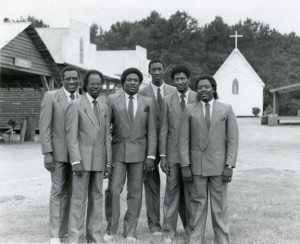 From their debut recording in 1964 until the passing 37 years later of leader Willie Neal Johnson, the Gospel Keynotes of Tyler, Texas, were one of the dominant quartets on the gospel highway. Few contenders to the quartet crown could match the sanctified spirit of Johnson's low tenor pipes or the excitement generated by his highly animated stage presence. And during two periods in the Keynotes' history (1964–1979 and 1996–2000), Johnson's leads were frequently seconded by the astonishing high falsetto voice of Paul Beasley.
Johnson was a true "country boy," as he was frequently billed during his singing career. Although he was born in Tyler on August 25, 1935, he spent his formative years in Galilee, a rural community six miles outside of the city. The oldest of six siblings, he, his two brothers, three sisters and their parents grew up singing together at a local Church of God in Christ. When he was 14, the family moved to Tyler, widely known as the Rose Capital of the World. His father died a year later, causing Willie to drop out of school to help support his mother by driving tractors and trucks in the rose gardens and later working for the Goodyear Tire and Rubber Company.
Inspired by such classic quartets as the Swan Silvertones and both sets of Blind Boys, Johnson joined the local Five Ways of Joy Gospel Singers at age 17. By 1963, he was leading a quartet called the Traveling Aires. While performing in Crockett, Texas, they were recruited by E.J. Brumfield of the Chosen Gospel Singers (a quartet that had featured the then-unknown Lou Rawls a decade earlier) and taken to Nashville to record two singles for Nashboro Records as his new set of Chosen Gospel Singers. The group returned to the label a year later, by which time Beasley had joined, and recorded a third single Show Me the Way as the Gospel Keynotes, a new name given them by the record company. It was the first song to feature Johnson, who had previously sung only second tenor harmony parts, and became a hit thanks to heavy rotation on Nashville's clear channel WLAC. The Gospel Keynotes, with Johnson at the helm, were suddenly catapulted into the major league of quartet gospel. They recorded more than 20 albums for Nashboro, including 1980's Grammy-nominated Ain't No Stoppin' Us Now. Signing with Malaco Records in 1985, the Keynotes recorded 11 albums for the Jackson, Mississippi, company.
Beasley, who was born in DeRidder, Louisiana, on December 11, 1944, was shepherded away in 1979 by the Mighty Clouds of Joy, the Keynotes' primary rival on the quartet circuit. He remained for seven years before going solo but finally returned to "Willie Neal Johnson & the New Keynotes," as they were billed at the time, for the 1996 Malaco album Help Me to Be Strong. It included Beasley and fellow high tenor Robert Williams singing a stunning double-falsetto duet rendition of Walk Around Heaven All Day, a Cassietta George composition that had become Beasley's signature song during his days with the Clouds.
There were frequent personnel changes in the Keynotes over the years. Other members who passed through the group included Ralph McGee, Rev. J.D. Talley, Charles Bailey, John Jackson, Lonzo Jackson, Archie B. McGee, Larry McCowin, Donny Timmons, Alfred "Geno" Smith, Ermant Franklin Jr., Jeffrey Newberry, Val Alexander, Rev. Charles McLean, Teddy Cross, Kenneth E. Talley, Kirk Talley, David Talley, Sheldon Talley, LaManuel Boykin, Maurice Morgan, Elton Mitchell, Perry Taft, Joe Watson and Michael Palmer.
For the title track of the 1989 Malaco album I'm Yours Lord . . ., the Gospel Keynotes teamed up with the Mississippi Mass Choir, thus introducing a new concept in gospel music dubbed "choirtet." The quartet-plus-choir concept was continued on 1992's The Country Boy Goes Home and 1998's The Country Boy Goes Home . . . II—both recorded during performances back home in Tyler with the Tyler Chapter of the Gospel Music Workshop Choir—as well as on 1994's Lord . . . Take Us Through featuring guest vocalist Dorothy Norwood.
Johnson's last recording was as a guest on fellow Texan Kirk Franklin's 2000 album The Rebirth of Kirk Franklin. The "country boy" suffered a fatal stroke in Tyler on January 10, 2001. He was 65 and was survived by his wife, three sons, five daughters and his mother, Luretia.
Beasley, who is now legally blind, has been recording and touring as a member of the Blind Boys of Alabama since 2013.
—Lee Hildebrand