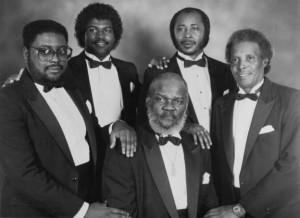 Quartet manager and lead vocalist Willie Banks was born May 11, 1929, in Raymond, Mississippi. A singer since age six, Banks began his professional music and recording career with the Jackson Southernaires. The quartet's debut single, The Greatest Creator, was released on Peacock's Song Bird subsidiary in 1964. It was the first in a series of singles and albums the quartet waxed for Song Bird, including the classic weeper Too Late.
Around 1971, Banks exited the Jackson Southernaires to form his own group, Willie Banks and His Southernaires. The Southernaires released two singles for Song Bird: the two-part His Own in 1970 and To Turn Back Don't Pay in 1972. Banks' lead singing style, as demonstrated on these sides and emulated by many singers to follow, combined sweet melodic runs, rough-edged shouting and a preacher's sense of vocal pacing.
Banks formed a new group called the Messengers, and in 1973, the quartet released its debut album on Peacock, the critically acclaimed Heaven Must Be a Beautiful Place. After some 25 years in operation, Peacock was sold to ABC. The Messengers, now including Banks, Henry Wesley, Willie Mitchell and Freddy Berry, moved to Hoyt Sullivan's HSE label. Releases on HSE, such as God's Goodness and Show Me the Way, made the Billboard Best Selling Gospel/Spiritual LPs chart. The title track of For the Wrong I've Done (1979) received a Grammy nomination for Best Gospel Soul Performance.
Banks and the Messengers suffered a terrible setback on July 6, 1981, when their touring van veered off the road near Atlanta and tumbled down an embankment. The accident killed one group member and left Banks in critical condition for several days. Grateful for surviving, Banks promised he would dedicate the rest of his life to singing about God's goodness.
After HSE was acquired by Larry Blackwell, Willie Banks and the Messengers released product on Blackwell's Black Label until signing with Malaco in 1988. The lineup that entered the Malaco studios to record its first LP for the label, Look at the Blessings, included Banks, Willie Mitchell, Cecil Kirby, Micky Martin and Michael Watts. Masterpiece followed in 1989.
The Legend Lives On (1992), a Billboard charting album for Malaco and the quartet, contained Banks' final recorded performances. He died of heart failure on February 1, 1993, and was laid to rest in Jackson, Mississippi. In memoriam, Malaco released The Best of Willie Banks, which entered the Billboard Top Gospel Album chart in July of that year. Despite the loss of their founder and leader, the Messengers pressed on, making albums for Malaco well into the 2000s.
—Robert M. Marovich