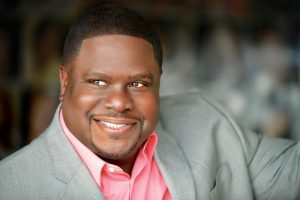 Gospel's Troy Sneed grew up in the South and aspired to be a professional football player. When injuries sidelined his dream of a career in the NFL, Sneed turned to music, which became his life's work.
Born December 14, 1967, in Perry, Florida, Sneed was a freshman at Florida A&M University when his college football career was sidelined by knee and ACL injuries. He traded his gridiron jersey for a choir robe and joined the university's 200-voice gospel choir—a fortuitous move, as Sneed met his wife, Emily, in the choir.
Sneed's introduction to music as a profession happened in Los Angeles when the Florida A&M Gospel Choir shared a program with the Georgia Mass Choir. Sneed recalled: "Reverend Milton Biggham, founder of the Georgia Mass Choir, heard me sing and asked if I would be interested in being part of Georgia Mass Choir when I graduated. I said, 'Yeah, as long as I don't have to move to Georgia!'"
During Sneed's 12-year tenure with the Georgia Mass Choir, he did a little of everything, including working on the group's releases for Savoy Records. "It was where I got my feet wet in the music industry," Sneed said, "because I had a chance to study and learn. Whatever they asked me to do, I did it. I came in as a musician, and after a while, I directed a couple of songs. Then I started singing lead on some songs, writing songs, and they allowed me to produce a couple of tracks."
Although his passion for the mechanics of the music industry was greater than his passion for singing, Sneed nevertheless tried his hand at a solo career. Savoy released two Sneed solo outings: Call Jesus in 1999 and Bless That Wonderful Name in 2001. On the latter, Sneed gospelized Jackie DeShannon's 1969 pop hit, Put a Little Love in Your Heart.
From there, he and Emily decided to start their own label. They called it Emtro Gospel, an elision of their first names. "We didn't have any investors," Sneed said, "we just had ourselves and did whatever we had to do to generate revenue. God took that little bit and allowed us to build our company." Emtro's first major success came in 2005 with Alvin Darling's spirited and churchy All Night.
In the late 1990s, Sneed organized a group called Youth for Christ. Even though the ensemble garnered a GRAMMY nomination for its debut album, its records did not sell well until The Struggle Is Over. Recorded live in Baltimore, the album featured Jonathan Nelson on the title track. It won a Stellar Award in 2006.
Sneed put his solo career on hold while juggling responsibilities at Emtro. In 2010, Emily coaxed him back into the recording studio, where he recorded his composition My Heart Says Yes. The single was a hit and signaled his return as a solo artist.