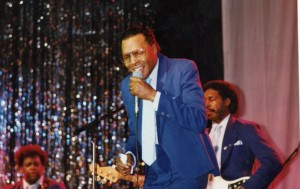 Although Tommy "Mr. Superstar" Ellison is best known for his work with the Singing Stars, he was part of several other top quartets during gospel's golden age. The passionate power of Ellison's singing was unmistakable, and he contributed greatly to each of those groups.
Born September 15, 1932, in Salley, South Carolina, Tommy Ellison was raised by his grandparents and attended Smyrna Baptist Church in Springfield, South Carolina. It was in the Smyrna children's choir that Ellison got his first experience singing sacred music for the public. He later migrated to Brooklyn, New York, where an uncle kindled the young Ellison's interest in singing on a professional level.
During his career, Ellison sang background for Madame Edna Gallmon Cooke and teamed up briefly in the mid-1950s with the Harmonizing Four, the Sensational Nightingales and the Chosen Gospel Singers, where he joined other vocal legends Lou Rawls and Joe Hinton.
Ellison formed the Five Singing Stars in 1960 and the group recorded its first single for Bobby Robinson's New York–based Revelation label that same year. The group came to the attention of Peacock Records almost immediately. Their singles for Peacock between 1960 and 1964 included Memories and Been In the Storm. They recorded for HOB from 1968 to 1970 and released their popular I Am Guilty of Loving God and Sailing for Jesus in the early 1970s for Hoyt Sullivan's HSE Records. From 1974 to 1980, Ellison and the Singing Stars made records for Nashboro, including the singles I Want to Be Loved and the Ellison-led My Love for God.
The quartet signed with Atlanta International Records and released a string of albums, starting in 1982 with Closer, followed by Good Old Ways (1983), Let This Be a Lesson to You (Drunk Driver) (1985), Trying to Get to Heaven (1990), Power (1992), Trust and Obey (1997) and Going to See My Friend (2002).
The Singing Stars appeared on radio, television and at top venues such as the Apollo Theater, Madison Square Garden and Carnegie Hall. They were included on the 2004 Living Legends of Gospel, Volume 2 DVD, narrated by Lou Rawls, Ellison's Chosen Gospel Singers colleague. Members of the Singing Stars at one time or another included longtime second lead Billy Hardie, Charlie Baker, Dennis Bowers, Joe Dawkins Jr., Franklin "Big O" Hardnett, Joseph Ricks Horns, Justin Mickens, Sam Moses, Perry Taft and Sam Williams.
Tommy Ellison—writer, producer, singer and manager—died in Baltimore, Maryland, on January 3, 2009, but not before being inducted into the American Gospel Quartet Convention Hall of Fame and receiving, with the Singing Stars, a resolution passed by the State of South Carolina, recognizing the group for its outstanding contribution toward preserving the heritage of African American gospel music.
Ellison may be gone but his legacy continues. A quartet comprised of Hardie, Hardnett, Williams, Mickens and Da'Quan Bowers (son of the late Dennis Bowers) performs as Tommy Ellison's Legendary Singing Stars.