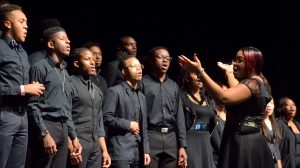 During the 1960s, a time of great social change in the United States, African American students attending predominantly white colleges and universities often felt ignored, dismissed or disrespected by their fellow undergrads. In response, they carved out their own place on campus by creating an array of extracurricular programs and organizations.
This was especially true at the University of Mississippi (Ole Miss), where in 1962 James Meredith made history by overcoming a deadly riot to become its first black student. By decade's end, African Americans attending Ole Miss still felt the aftershock of such a virulent response to integration. The Black Student Union was formed in March 1969 to give African American students a sense of belonging as well as a voice in campus affairs. The Union also sought to foster racial amity on the Oxford campus.
In 1974, Ole Miss students inspired by gospel choirs established at HBCUs (Historically Black Colleges and Universities) formed the Black Student Union Choir. The group provided for African Americans a musical and spiritual outlet as well as a supportive community and source of cultural pride. By 1991, when the choir changed its name to the University of Mississippi Gospel Choir, Ole Miss had embraced the ensemble as a popular campus activity and an effective recruitment tool.
The choir signed a record deal in 1999 with Malaco, whose principal leaders—Tommy Couch Sr., Tommy Couch Jr. and Wolf Stephenson—are Ole Miss alumni. Send Up the Praise, released in October 1999, featured the choir singing ten songs under the direction of Ron Briggs, Jason Clark and Dee Thomas. The album garnered a Grammy nomination in 2001 for Best Gospel Choir or Chorus Album.
Today, the University of Mississippi Gospel Choir is a mainstay on the Oxford campus. It sings for the school's annual Christmas tree lighting ceremony, performs the national anthem at athletic events and travels throughout the state and country to sing for special occasions. The choir appeared on BET's Bobby Jones Gospel television program and participated in a 50-year celebration of integration at Ole Miss.
More than 40 years after its founding, the University of Mississippi Gospel Choir remains true to its mission statement: "to allow members to utilize their musical talents and abilities through songs and praises for the magnification of our Lord and Savior, Jesus Christ."