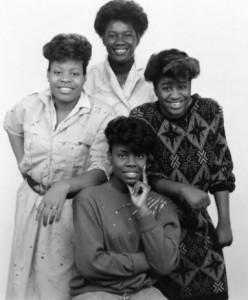 Blessing audiences for more than 40 years, the Truthettes of Oklahoma City, Oklahoma, are best known for their 1980s gospel hit Peanut Butter and Jelly.
A member of a traveling group called the Gospel Truths, Velma "Ms. Vee" Morgan of Holdenville, Oklahoma, organized the Truthettes in 1975 around her daughters Tiffanie (Tu-Tu) and Tamara, and Gayla Butler and Becky Perry, the offspring of other Gospel Truths members.
The Truthettes dazzled audiences with a mature sound that belied their youthfulness. Their first single was self-produced but it did well enough to earn them appearances on programs around the southwestern United States. The late Willie Neal Johnson was so impressed with the young ladies that he took them on tour with him and introduced them to the late Frank Williams of Malaco Records.
Since the Truthettes were young and new to recording, Williams brought the group into the studio a week early so they could become comfortable with the experience. Their 1980 debut on Malaco, Child's Prayer, offered the popular God Stood By My Side. The follow up, He's Still Working on Me (1982), yielded the up-tempo Can't Nobody Do Me Like Jesus.
The Truthettes scored their biggest hit with their 1983 Malaco LP, Take It to the Lord in Prayer, which remained on Billboard's Top Spiritual Albums chart for 81 weeks and featured the story song Peanut Butter and Jelly. Other Malaco albums that charted were Making a Way (1985), God Will Make Things Alright (1986) and Every Step of the Way (1987). The group also recorded Flowing for Malaco in 1989.
The Truthettes have traveled extensively throughout the United States and the world, including a performance at the Heineken Jazz Festival in Rotterdam, Holland. The group appeared on BET's Bobby Jones Gospel many times and has received awards and presentations, including being named Gospel Legends at the 1999 Gospel Music Workshop of America (GMWA). The GMWA Quartet Division honored the Truthettes with its own Living Legend Award in 2012.
Although they are grown up and married, the Truthettes continue to perform. Tu-Tu Agee, Tammy Moore, Velma Morgan, Tamonie Agee and Amy Sims are the current members of the group. Tu-Tu and Tammy's younger brothers, Jason and Jovan Morgan, play the keyboards and drums, respectively.