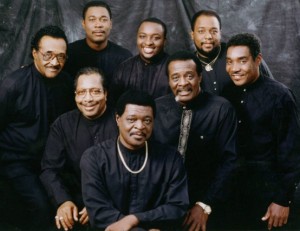 Formed in 1944 in Houston, Mississippi, the Pilgrim Jubilee Singers (later shortened to the Pilgrim Jubilees, or the "Jubes") began as a family quartet consisting of brothers Theophilus "Hoppy" Graham and Elgie C.B. Graham, cousin Monroe Hatchett and cousins-in-law Willis Johnson and Alfred Brownlee. The group sang at the family's home church, New Zion Missionary Baptist Church, and other local venues.
The Jubes disbanded briefly in 1947 when Hoppy migrated to Chicago, but he reassembled the quartet in 1950 when brothers Elgie and Cleave and cousin Monroe joined him up North. They added fellow Mississippian Major Roberson, formerly of the Pilgrim Harmonizers; Roberson was a songwriter who became the group's booking manager. As soon as he was old enough, younger brother Clay Graham became a member.
The Jubes' first record, a self-financed single on Chance Records in 1953, gave them product to sell at programs and pitch to radio. They strengthened their local visibility further by splitting the cost of a 15-minute program on radio station WSBC with the Spiritual Five quartet.
In 1955, R.H. Harris, the Soul Stirrers' lead singer and president of the Chicago Quartet Union, gave the Jubes their first national exposure when he selected them to represent Illinois at the National Quartet Convention in Oakland. There, another Soul Stirrer, S.R. Crain, introduced the men to Art Rupe of Specialty Records. The Jubes cut a few songs for Specialty but none were released at the time, mainly because of the concern that the similarity of their name to the Pilgrim Travelers, one of Specialty's top-selling gospel artists, would confuse listeners.
Their radio friends, the Spiritual Five, brought the Jubes to Nashboro Records. The Jubes' 1959 Nashboro disc, River of Jordan and Father, I'm Coming Home, inspired Edna Gallmon Cooke's manager, Barney Parks, to hire them to complete a series of scheduled bookings that an ailing Cooke could not fulfill. The disc also impressed A&R man Dave Clark. He persuaded the Jubes to sign with Peacock Records.
During their years with Peacock (1959–1975), the Jubes hit their stride. In particular, they introduced two elements that became emblematic of their sound: substitution of the bass guitar for the bass voice (Stretch Out) and Clay's use of sermonettes, or brief morality stories, to introduce an old hymn or new song (True Story). Additional Peacock hits included Wonderful, Old Ship of Zion, Steal Away and the two-part A Child's Blood.
The Jubes returned to Nashboro briefly from 1976 to '80, cutting Homecoming: Recorded Live in Chicago in 1979. Capturing the quartet in program at Dunbar High School, Homecoming was the first of many live albums to follow.
In 1980, the Jubes signed with Savoy Records. One of the most popular quartets in the nation, the Jubes—now comprised of Clay and Cleave Graham, Roberson and Ben Chandler—recorded one album a year for Savoy until 1984. Three years later, they debuted what would become a longstanding association with Malaco with Gospel Roots. The album featured a Clay sermonette called Barnyard and a new version of Old Ship of Zion. Nearly every Malaco album, in fact, carried a Clay sermonette. For example, Little Willie graced the 1989 album Back to Basics, while 1991's Family Affair introduced True Story to a new generation of listeners.
The 1990 Malaco release Live From Jackson, Mississippi and 1993's In Revival featured some of the Jubes' most popular songs sung in front of appreciative audiences. The latter was recorded at a live program held in their birthplace of Houston, Mississippi. Don't Let Nobody Turn You Around (1995) was another live CD of new and old favorites, this time recorded at Birmingham's Alabama Theatre for the Performing Arts. No less than five of their Malaco albums made the Billboard Top Gospel Albums chart.
The Jubes were the first gospel quartet to be the subject of a full-length biography. Written by New Zealander Alan Young, The Pilgrim Jubilees was published in 2001 by the University Press of Mississippi. It remains an essential title on gospel music history.
The new millennium saw the Jubes release more Malaco albums: Were You There (2000), The Year of Jubilee (2003) and Jesus Got Me Off (2007). It also witnessed the Jubes' induction into the American Gospel Quartet Convention Hall of Fame (2001). Although Major Roberson died in 2010, Cleave and Clay Graham continue to sustain the Pilgrim Jubilees from Chicago. It is not at all unusual to catch them appearing at a Sunday evening multi-artist quartet program on Chicago's West Side.
—Robert M. Marovich