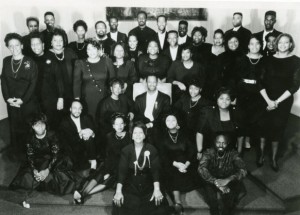 The New York Restoration Choir may have had a brief career, but in that time it introduced Speak to My Heart into the gospel music lexicon and its main singer, songwriter and director, Donnie McClurkin, to the world.
Born November 9, 1959, in Amityville, New York, Donald A. "Donnie" McClurkin organized his first gospel group, the McClurkin Singers, while still a teenager. The nine-member ensemble included Donnie and his sisters Andrea, Olivia, Tanya and Cheryl "Cheri." Andrea and Tanya joined Donnie in his next singing aggregation, the New York Restoration Choir, which he founded at age 19.
Signing with Savoy, the urban contemporary New York Restoration Choir recorded its debut album, I See a World, in 1990. Despite the fact that it was musically ahead of its time, the album's single, Speak to My Heart, written and led by Donnie, became popular with radio listeners and choir directors. Soon churches coast to coast were ringing to the sounds of Speak to My Heart.
Despite five Stellar Award nominations for its debut, the New York Restoration Choir went home empty-handed. Nevertheless, its follow-up album, 1992's Thank You Jesus, charted on Billboard. It featured solos by Donnie, including on the title track, and by his sister Andrea McClurkin-Mellini on What a Love and Ain't That Love.
The choir's third and final Savoy album, Center of Your Will, was recorded live at Christian Victory Center in Hempstead, New York. It hit the streets in 1995, with I Am Here and the title track garnering radio play.
By the late 1990s, Donnie McClurkin was busy launching what would turn out to be a very successful solo career, earning accolades for such songs as We Fall Down and Stand. Savoy paid tribute to the McClurkin family's success in 2010 by releasing The Collection, a compilation of the best selections from the New York Restoration Choir's three albums. One of those songs, Speak to My Heart, remains in Donnie's McClurkin's solo repertory nearly 30 years after its introduction, an enduring reminder of his humble beginnings.