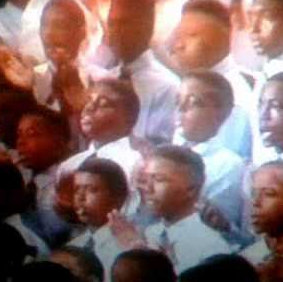 Organized in 1990 as an opening act for the Mississippi Mass Choir, the Mississippi Children's Choir was comprised of 200 youth from across the state, between the ages of seven and 17. Dorcus Curry Thigpen, director of the Mississippi Mass Choir, also directed the Children's Choir. Audiences were so taken with the young group that in 1992, Malaco released their debut album, Children of the King.
A New Creation followed in 1994. It featured ten-year-old Bryan Andrew Wilson leading His Eye Is On the Sparrow. The astounding popularity of the recording brought Wilson nominations for Dove and Stellar awards, solo recordings and tours with top-shelf gospel artists. After his voice changed, Wilson enrolled in Princeton University, reemerging on the gospel scene in 2008 as a solo artist with A Second Coming.
Dathan Thigpen, son of the director Dorcus Thigpen, was the lead vocalist on Mississippi Children's Choir hits such as There Is Hope and Child of the King. The songs were emblematic of the choir's global message of peace, love, faith and unity. In 2015, Dathan was crowned champion of that season's BET Sunday Best gospel music competition, which provided him with a solo recording contract.
When God's Children Get Together (Malaco, 1998) represented the choir's final time on record. All the members are now adults and the group is no longer in existence.
Besides Bryan Andrew Wilson and Dathan Thigpen, other notable Mississippi Children's Choir alumni include R&B artist Rashad Smith and multi-instrumentalist Charles Carter. Dathan reports that Chris "CJ" Gibson, is part of the Blueprint Group, which manages hip-hop artists Lil Wayne, Nicki Minaj and Drake, among others. He also notes that Stephen Johnson and Larry Johnson joined the Mississippi Mass Choir as adults, and Larry has since launched a solo career. The rest of the choristers have gone on to work in various occupations, including church ministries.
—Robert M. Marovich