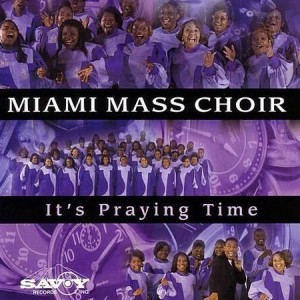 In January 1995, the Reverend Milton Biggham, executive producer for Savoy Records, asked Pastor Marc Cooper to assemble some of Florida's finest singers into a new choir. More than 100 women and men answered the call. They gathered at Florida Memorial College Chapel on February 27, 1995, for the first rehearsal of the Miami Mass Choir.
In July of that year, the choir completed its debut album, It's Praying Time. Released on Savoy in 1997, the album went to No. 25 on Billboard's Top Gospel LPs chart. It was buoyed by the Joy Cooper–penned single and fan favorite, It Is for Me. Just three years after its founding, the Miami Mass Choir took home a Stellar Award for Choir of the Year.
The choir reassembled in May 1998 at St. Mark Missionary Baptist Church in Fort Pierce, Florida, to record a follow-up album for Savoy. Just 4 You came out in June 2000 and contained a mix of churchy gospel, island and funk sounds, all selected deliberately to represent South Florida's cultural diversity. Veteran singer Virginia Bostic, the Miami Mass Choir's version of Mississippi Mass' Mosie "Mama" Burks, led the traditional-flavored God's Been Good. Ole Rickety Bridge, the choir's 2000 collaboration with Evangelist Dorothy Norwood for Malaco, climbed the Billboard Top Gospel LPs chart and was nominated for a Grammy Award for Best Traditional Soul Gospel Album.
At this point, Cooper started his own record label, MaJo Records. MaJo is an elision of the first two letters of Marc and Joy Cooper's first names (they minister together at Cooper Temple COGIC in Miami). Miami Mass Choir's third album, God Will See You Through (2001), was released on MaJo.
The Miami Mass Choir received significant national attention in 2004 when it accompanied Kanye West on his hit, Jesus Walks, at the MTV Video Music Awards. By 2010, the choir had become the resident ensemble at the Adrienne Arsht Center's "Free Gospel Sunday Series" in Miami.
It was not surprising, then, when after a long hiatus from the recording scene, the Miami Mass Choir's next album was recorded at the Arsht Center. Live at the Adrienne Arsht Center hit stores in December 2016. Appearing on the MaJo label, the live album featured a solo by "Miami Soul Queen" Betty Wright on That's What He Is and Beverly Crawford leading the haunting Calvary.