The Lumzy Sisters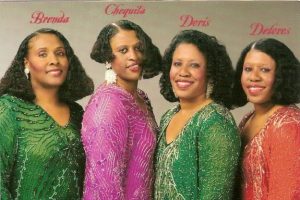 The Lumzy Sisters grew up in a five-room home in Columbia, Mississippi.  Inspired by the hit-making factory of Motown Records, the girls' father, Robert Lumzy thought his singing daughters were good enough to make a go of it in rock and roll and change the family's financial future. Strapping on his guitar, he rehearsed them in the rudiments of singing, harmonizing, and performing. Ignoring the pleas of his wife, Emma, who believed that their daughters should only sing for the Lord, Robert pressed onward with his plan.
A series of family tragedies, culminating with the sudden death of an infant daughter, turned Robert's heart.  Believing the tragedies to be a response to his disobedience to the Lord, he ended his dreams of rock and roll stardom for his daughters and accepted a call to ministry.  As he began to preach around the area, Emma took over the girls' musical rehearsals, but under her leadership, the focus would be on gospel music and only gospel music.  The Lumzy Sisters—Brenda, Chiquita "Quita," Doris and Delores—brought their talent to any area church that invited them to minister.
When Rev. Lumzy was called to pastor a New Jersey church, the family left Mississippi and settled in New Brunswick, New Jersey.  Brenda also accepted the call to ministry and, as the Reverend Brenda Lumzy-Hicks, she served as her father's assistant pastor.
Richburg Records, Marilyn Records, AIR Gospel) and for eight consecutive years, they won the prestigious award for being the number one Female Gospel Quartet of the Year at the American Gospel Quartet ConventionThe Lumzy Sisters recorded an album for the New Jersey-based Richburg label, with musical great Robert Banks accompanying them on organ.  They appeared on a 1987 Tommy Ellison and Singing Stars album for Marilyn Records.  Signing with Atlanta International Records (AIR), they released three albums: 1982's Sisters, followed by Precious (1993) and Memories (1995).  Continuing their penchant for one-word album titles, the ladies released Satisfied for Marxan Records in 2002.  They appeared on the gospel music television programs Bobby Jones Gospel and Singsation, demonstrating their fusion of gospel quartet harmony with the effervescence of 1950s and 1960s female gospel groups like the Caravans and Ward Singers.
When Quita passed away in October 2009 at age 50, and Doris followed her into eternity five years later, the sisters decided to call it quits on professional singing.  Nevertheless, they reunited in February 2018, adding to their ranks Anita Hicks-Johnson (Reverend Brenda Lumzy-Hicks's daughter), Lititia Chanae Lumzy (Quita Lumzy-Wiggins' daughter) and family friend Faye Chapman of Newark, New Jersey.  Their reunion concert was held at New Zion Baptist Church in Elizabeth, New Jersey, and they have returned to appearing on gospel programs in and around New Jersey.
While the Lumzy Sisters chose gospel music over Motown, they point out with a sly wink that there's a hint of the Hitsville USA sound in their singing.