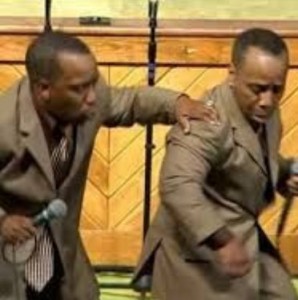 If family groups are ubiquitous in gospel music, brother groups are less common, singing twin brothers even less so, and singing twin brothers who stand less than 4 feet tall apiece, almost unheard of.  But that's what makes the Joy Boyz distinctive.  Diminutive in size though not in sound—physically, they are a 180-degree difference from the portly Edgar and Edward O'Neal of the O'Neal Twins—the charismatic Donnie and Daryl Frierson make a joyful noise.
The Frierson brothers started out singing together professionally around 1982, first as the Gospel Midgets.  They dropped the moniker for the less exploitative and more appropriate Joy Boyz, though sometimes they tagged on "The Smallest Men in Gospel" or "The Small Men with Big Voices" for good measure.
Indeed, each Frierson brother measures in at about 42 inches tall.  But as Donnie told reporter Michael Lipton in 1998: "I've read the Bible from Genesis to Revelations, and there's nowhere that it says you got to be 6 feet tall to serve the Lord."  Indeed, while the Joy Boyz make tongue-in-cheek references to their small stature, they and their musicians are very serious about producing deep groove gospel music. The brothers' earthy quartet style of singing is rooted in years of listening to tradition-bearing quartets such as the Gospel Keynotes and the Mighty Clouds of Joy.
In fact, it was while sharing the stage with the Keynotes in the mid-1990s that they were introduced to a representative of Baltimore Records, who cut their first album.
The Joy Boyz signed with Malaco's quartet-centric 4 Winds imprint around 2010. Their Darrell Luster-produced debut CD and DVD on 4 Winds, 2011's Stand Tall in the Lord (yet another tongue-in-cheek reference to their physical stature) was recorded live at Ebenezer Missionary Baptist Church in Rocky Mount, North Carolina.  The project, which includes such energetic songs as Too Blessed to be Stressed, Blessing in Your Pressing and the title track, is emblematic of the brothers' traditionally-rooted and kinetic style of praise.