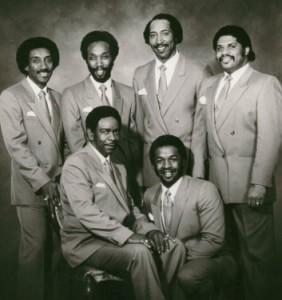 The Jackson Southernaires epitomize the gospel quartet sound: hard lead singing and preaching, bluesy rhythm, rich harmonies and messages that combine biblical truth with old-fashioned common sense. At the same time, the group is not afraid to use modern instruments in their live performances while maintaining a traditional foundation.
The group was formed in Jackson, Mississippi, in 1940 by local music producer Frank Crisler. Like many quartets, the Southernaires started by singing in local churches for freewill offerings. But in 1963, anchored by the combined talents of brothers Franklin "Frank" Delano Williams and Huey Proctor Williams, and electrifying vocalist Willie Banks, the quartet scored a record deal with Song Bird, a subsidiary of Peacock Records. Their debut single was the hard-driving The Greatest Creator.
During the early Song Bird years, the quartet consisted of Crisler, Frank and Huey Williams, Banks and Luther Jennings. A short while later, the group helped Frank and Huey's younger brothers, Leonard, Melvin and Doug, sign their Williams Brothers quartet to Song Bird. The two groups even shared a Song Bird LP, He's My Brother.
Five years after their first single, the Jackson Southernaires scored their first mega hit, Too Late. The mournful sermon-within-a-song was Song Bird's most popular seller of the year and led to the group's first full-length album. Other fan favorites during this period were the Banks-led On My Way Home, as well as How Long Will It Last and Don't Let Him Catch You (With Your Work Undone). By this point, the Southernaires were on their way to becoming a national treasure. In addition to their long-running weekly radio broadcast, the group hosted their own television program, Gospel Unlimited, in 1973.
The Jackson Southernaires (consisting of Frank and Huey, Jennings, Paul Peters and Nathaniel Baldwin) not only became the label's first gospel artist when they signed with Malaco Records in 1975, they also paved the way for the company's now estimable Gospel Division, later managed by Frank Williams. For more than two decades, the Southernaires released a string of Malaco albums, all marinated in their trademark smooth southern soulfulness. Many made the Billboard Top Gospel Albums chart. Charting albums included All God's Children and Down Home (both from 1975), Legendary Gentlemen (1979) and Lord, We Need Your Blessings (1985). They were named one of Billboard's Top Ten Gospel/Soul Artists several years in a row.
In an era when gospel quartets were losing ground in radio play and record sales to gospel choirs, the Jackson Southernaires remained immensely popular. Radio favorites from their early Malaco years include Lord, Please Remember Me (1975), Just Can't Make It By Myself (1978) and a gospelization of Anne Murray's 1978 You Needed Me as I Needed Him (1980).
The Jackson Southernaires had a knack for striking a tender chord in the hearts of their listeners with heartwarming story songs such as Too Late, Thank You Mama for Praying for Me and their cover of Red Sovine's 1976 CB radio novelty, Teddy Bear.
In addition to their own output, the quartet assisted Prince Dixon on three of his albums. Malaco released one of them: 1976's Prince Dixon with the Jackson Southernaires. They also supported the Reverend Curtis Watson on his self-titled Malaco album in 1978.
The Gospel Music Workshop of America named the Jackson Southernaires its Traditional Male Group of the Year in 1987, 1988 and 1989. They won their first Stellar Award in 1989 and in 1992 were nominated for a Grammy in the Best Traditional Gospel Album for Thank You Mama for Praying for Me. But in 1993 the group was dealt a severe blow when longtime member and driving force Frank Williams passed away at age 45. The men continued to release new material, such as The Word in Song (1995) and The Brothers Dream . . . Alive (1996).
With new personnel, the Jackson Southernaires remain active in the new millennium. In 2010, Jackson, Mississippi, honored their hometown heroes by renaming the street Bailey Avenue Extension "Jackson Southernaires Drive."