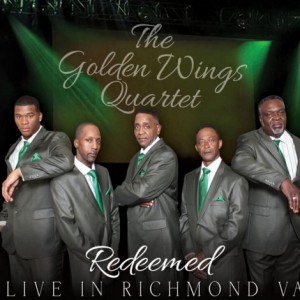 Tupelo, Mississippi, may be better known as the birthplace of Elvis Presley and the home of quartet star Lee Williams, but it is also the birthplace of the Golden Wings Quartet. The group was organized there in 1970 by James Parks, Tyrone Parks and Toby Coker.
For three decades, the Golden Wings made the most of its regional reputation as purveyors of traditional gospel quartet singing. The group's fortunes changed in 2002 when the National Association of Gospel Promoters & Managers in Atlanta named them the New Gospel Quartet Artist of the Year.
Two years later, the Golden Wings entered Tupelo's Temple of Compassion and Deliverance to record You've Got to Leave It Here!, which was released as a CD and DVD on the independent MARS label. With its memorable line, "I've never seen a hearse pulling a U-Haul on its way to church," the title track became a fan favorite. By 2008, the Golden Wings had achieved such significant national visibility that they were invited to appear on BET's Bobby Jones Gospel television program.
In 2009, the group self-produced another live CD and companion DVD called Put Your Time In—Payday Is Coming: Live from Muskegon Heights, Michigan. For this album, James and Tyrone Parks, Toby Coker, Alton Hollis, Cornelius Redman and Michael Penson reprised their audience-pleasing stagecraft, especially on the single Keep Blessing Me and the rousing Keep Your Arm Around Me. In particular, the opposing performance techniques of the group's main lead singers—the easygoing James Parks and the wiry, animated, high-kicking Coker—make for an aural and visual treat.
When the Golden Wings signed with Malaco Records, the label reissued the Live from Muskegon Heights, Michigan CD and DVD on its 4 Winds imprint as Keep Blessing Me. The quartet received a Stellar Award nomination for Quartet of the Year in 2011.
The year 2013 saw the release of yet another Golden Wings Quartet live CD and DVD on 4 Winds: Redeemed—Live in Richmond, Virginia. Recorded at the Richmond Christian Center, the album includes a new version of You've Got to Leave It Here (as Leave It Here) and the hit title track.