The Gay Sisters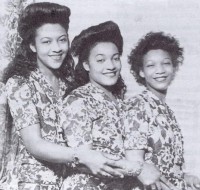 Chicago's Gay Sisters recorded sporadically for a variety of labels for almost half a century—usually a single here, a single there, most of them little-noticed. Yet, their reputation as one of the most innovative and exciting groups of gospel music's "golden age" rests largely on the dozen songs Mildred, Evelyn and Geraldine Gay recorded during three sessions between March and July of 1951 for Savoy Records.
Their debut single for Savoy, a gospelized arrangement by Evelyn of the 1904 white Protestant hymn God Will Take Care of You by the husband-and-wife team of Civilla and Walter Martin, was an immediate hit, selling around a million copies—a nearly unheard of figure for a gospel record during that period.
"At that time," Bill Carpenter wrote in Uncloudy Days: The Gospel Music Encyclopedia, "most traditional black church music wasn't considered sacred unless the tempo was slow and the words were drawn out. Evelyn rearranged the song by speeding the tempo a bit and not drawing the words out, a musical statement as revolutionary and controversial as Kirk Franklin's hip-hop flavored Stomp was to the black gospel world in the 1990s."
More gospel radio hits following from the 1951 Savoy sessions, including I'm a Soldier, The Little Old Church on the Hill and God Shall Wipe All Tears Away. Eleven of the 12 songs recorded for Savoy were later compiled for an album titled God Will Take Care of You.
Fannie Lewis and Jerry Gay were married in Atlanta in 1922 and later moved to Chicago, where they raised five children: Evelyn, Robert, Mildred, Geraldine and Donald. Both parents and four of their offspring—with the notable exception of Robert, who became a jazz musician—performed from time to time with the family group, which was billed variously as "The Gay Singers," "The Gay Sisters with Fanny [sic] Gay and Preacher Gay," "Evelyn Gay & the Gay Sisters," "Evelyn Gay & Brother" and "The Gay Sisters with Donald Gay."
The Gay family attended All Nations Pentecostal Church on Chicago's West Side, where the pastor was Elder Lucy Smith, grandmother of future Roberta Martin Singers pianist Little Lucy Smith. The children were musically encouraged there by future gospel star Sister Rosetta Tharpe. Following Elder Smith's death in 1952, the Gays joined the Church of God in Christ denomination.
Vocalist Mildred and singer–pianist Evelyn Gay formed the Gay Sisters as duo in 1946 and were frequently joined over the years by Geraldine, also a pianist. Evelyn had taken formal lessons, while Geraldine taught herself to play by listening to her sister practice. Both developed styles strongly influenced by secular music—Evelyn by blues, Geraldine by jazz.
The Gay Sisters cut their first single in 1948 for Dolphin's of Hollywood, a Los Angeles label that also recorded future gospel stars the Ward Singers and the Roberta Martin Singers during the late 1940s. Little came of it. Next were the classic Savoy sessions. Despite the great success of the Savoy recordings, the group made no further sides until one single for the major label Decca in 1955 with mother and father in tow. Further singles on such labels as P.E.A., B and F, Faith, Davis, Hummingbird and Rush also generated little interest. Geraldine, Evelyn and Donald even recorded an album's worth of material for Chess/Checker in Chicago in 1966, but the company issued only one 45 r.p.m. single from the sessions. The three then went their separate ways but reunited a decade later to record a few tracks, including a new version of God Will Take Care of You, for a multi-artist album on Anthony Heilbut's Spirit Feel label. The Gay family discography came to a close in 2004 with Geraldine and Donald revamping God Shall Wipe All Tears Away on a Sirens Records album titled In The Right Hands: Chicago Gospel Keyboard Pioneers.
All three of the Gay Sisters are deceased. Evelyn was born in 1923 and died in 1984. Mildred was born in 1923 and died in 2004. Geraldine, born in 1931, passed in 2010.
—Lee Hildebrand