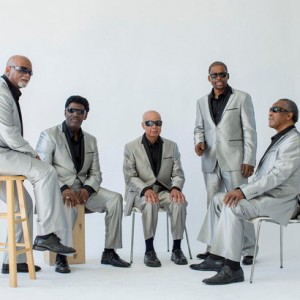 Six sightless teenage singers—lead Velma Trailer, lead and baritone Clarence Fountain, tenor Tommy Gilmore, baritone and guitarist George Scott, baritone Olice Thomas and basso Johnny Fields—dropped out of the Alabama Institute for the Negro Deaf and Blind in Talladega in 1944 to pursue a career as a professional gospel group. Initially inspired by the jubilee style of the Golden Gate Quartet, they called themselves the Happy Land Jubilee Singers and in 1948—minus Trailer, who had died a year earlier—were dubbed the Five Blind Boys of Alabama. Although none of the original members remain, the current group—vocalists Jimmy Carter, Ben Moore, Ricky McKinnie and Paul Beasley and singer-guitarist Joey Williams—now stands tall as the world's most successful purveyor of the African American gospel quartet tradition.
In 1948, a Newark, New Jersey, promoter booked the Happy Land Jubilee Singers on a gospel concert bill with another set of sightless vocalists—the Jackson Harmoneers. He advertised the program as a "Battle of the Blind Boys." From that point on, the Happy Land Jubilee Singers became known as the Five Blind Boys of Alabama and the Jackson Harmoneers as the Five Blind Boys of Mississippi. The two groups maintained a friendly rivalry for many years, frequently touring together and exchanging members.
While in Newark, the Alabama group stayed at the Coleman Hotel, an establishment run by the gospel-singing Coleman Brothers. With brother Melvin Coleman producing, the Blind Boys signed with Coleman Records and scored a hit with Living on Mother's Prayers, the first in a string of maternal-themed songs they would continue recording at Gospel Records in Philadelphia in 1950 and '51 and at Specialty Records in Los Angeles between 1952 and '58.
Throughout much of their long career, the Blind Boys of Alabama have included a sighted vocalist, most of whom shared lead vocals with Clarence Fountain. They included Rev. Paul Exkano, Rev. Samuel Lewis, Rev. George W. Warren and former Blind Boys of Mississippi member Rev. Percell Perkins. All were hired for the same basic reason—"You never refuse a guy who can sing, drive and help out," Fountain explained in 1992.
Although the Blind Boys of Alabama's popularity began dipping after they left Specialty, where their live appearances had been handled by the same in-house agency that booked such other major gospel stars as the Soul Stirrers, Pilgrim Travelers, Gospel Harmonettes and Brother Joe May, they continued recording for Andex, Gospel (a subsidiary of Savoy), Vee-Jay and Hob. Fountain left the group in 1968 to pursue a 12-year-long solo career. George Scott and Olice Thomas kept the Blind Boys going in his absence.
In 1982, the reconstituted Blind Boys of Alabama recorded the album I'm a Soldier in the Army of the Lord, with Philadelphia soul hit-making producers Kenneth Gamble and Leon Huff, which featured Fountain and former Blind Boys of Mississippi member Roscoe Robinson trading leads. Following the recording of that album, they signed on with theatrical producer Lee Breuer and composer Bob Telson to appear on Broadway in an award-winning adaptation of Sophocles' Oedipus at Colonus titled The Gospel at Colonus. Only Fountain and Thomas remained from the original Happy Land Jubilee Singers. They were joined for the long-running production by Caleb "Bobby" Butler, Samuel Butler, Joe Watson and onetime Blind Boys of Mississippi member J.T. Clinkscales.
The group recruited Jimmy Carter as second lead singer to Fountain during the mid-'80s. Carter had sung with Fountain and other charter members in a 12-member chorus at the Talladega school but was not with the Happy Land Jubilee Singers when they hit the road. He had spent a dozen years with the Mississippi Blind Boys before joining the Alabama group and was with the obscure Dixieland Blind Boys prior to that. He has been the Alabama group's primary lead singer and front man since Fountain's departure in 2008 due to his need for regular kidney dialysis treatments and a disagreement with record producer Chris Goldsmith over the group's musical direction. Fountain, the group's only living charter member, was alive and relatively well at age 86 in Baton Rouge, Louisiana, as of the summer of 2016.
After The Gospel at Colonus introduced the Blind Boys of Alabama to largely white audiences that had been unfamiliar with the veteran group's music, they began altering their style in order to better capture more of the non-gospel crowd, particularly fans of blues and other forms of American roots music. The 1993 Booker T. Jones–produced album Deep River on the Nonesuch label, which included a rendition of Bob Dylan's I Believe in You, was their first disc designed to appeal to their new following.
Since 2001, blues, rock, country and soul artists have been featured regularly on Blind Boys albums for the Real World, Time Life and Sony Masterworks labels. Guests have included Charlie Musselwhite, Bonnie
Raitt, Susan Tedeschi, Ben Harper, Chrissie Hynde, Lou Reed, Tom Waits, Asleep at the Wheel, Patty Griffin, Randy Travis, Solomon Burke, George Clinton, Billy Preston, Mavis Staples and Allen Toussaint. Songs written by Curtis Mayfield, Prince and Stevie Wonder have also been included.
The newest member of the Blind Boys of Alabama is Paul Beasley, a high falsetto specialist formerly with the Gospel Keynotes and the Mighty Clouds of Joy. He made his recording debut with the group on the Sony Masterworks CD I'll Find a Way in 2013.
The Blind Boys of Alabama have won six Grammy Awards since 2002, including a Lifetime Achievement Award in 2009.
—Lee Hildebrand