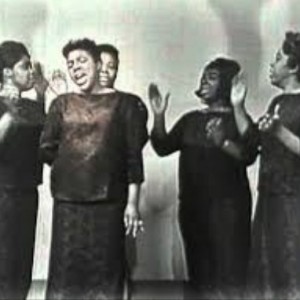 Although she was known as "Baby Sis" to family, friends and countless fans, Ruth Davis was actually the oldest of the four siblings who recorded as the "Famous Davis Sisters," as they were billed by Savoy Records during their 13 years (1955–1968) with the Newark, New Jersey–based company. Born in Philadelphia on April 19, 1927, she was joined in the group by sisters Thelma (1930–1955), Audrey (1932–1982) and Alfreda (1935–1989). A fifth sister, Edna, often joined them for live performances but never recorded with them in the studio. A cousin, pianist and vocalist Curtis Dublin (1928–1964), rounded out the original group.
The Davis Sisters, Robert Sacre wrote in the Encyclopedia of American Gospel Music, were "the first female group to sing the 'hard' gospel that appeared in the early 1950s and was totally different from the Baptist style of singing, which emphasized beauty of tone, precise rhythm, and occasional ornamentation; hard gospel was characterized by straining the voice during periods of spiritual ecstasy, singing at the extremes of ranges, repeating words or syllables, adding lots of interjections, and 'acting out' songs with motions, stoops, and movements."
"Ruth was the hardest female belter in gospel, 'scared of no man' when it came to squalling," Anthony Heilbut observed in his book The Gospel Sound: Good News and Hard Times. "At home she'd enthrall friends with her blues, and all the singers insist she could have been another Dinah Washington or Big Maybelle."
The sisters grew up singing at Philadelphia's Mount Zion Fire Baptized Holiness Church. After serving in the Women's Air Corps during World War II, Ruth organized her sisters into a formal group in 1945. She was inspired early on by the Wings Over Jordan Choir, onetime gospel singer Dinah Washington and male quartets, particularly Philadelphia's Dixie Hummingbirds. The Davis Sisters first cut two singles for the local Apex label in May 1949. With Imogene Greene added to the lineup, they recorded prolifically for Gotham Records, another Philly label, from July 1949 to October 1952. Hits for Gotham included Jesus Steps Right In, By and By and Too Close to Heaven.
On the recommendation of Gertrude Ward, the mother of Clara Ward and manager of the Philadelphia-based Ward Singers, Savoy signed the Davis Sisters in 1955. Their first session for the company, on February 9 of that year, yielded the group's biggest hit—the rousing Twelve Gates to the City, which featured Dublin's robust baritone followed by Ruth's powerful, emotion-charged contralto. The session also introduced the remarkably elastic voice of Jackie Verdell, Greene's replacement in the group, on the song He's My King. Those two songs, along with eight others from 1955, comprised Twelve Gates to the City, the first of 11 Davis Sisters releases by Savoy through 1968.
Aretha Franklin once called Jackie Verdell "one of the best and most underrated female soul singers of all time." Born in Philadelphia on November 5, 1937, Verdell became second only to Ruth as the group's star soloist. She left the group on a number of occasions over the years to record a few R&B singles for Peacock, Decca and Coral labels, to perform in musical theater productions and to do background vocals by the likes of Wilson Pickett, Dee Dee Warwick, Van Morrison and Horace Silver. She returned to the Davis Sisters, however, for their final album, 1981's The Storm Is Passing Over, with a lineup that consisted of Audrey and Alfreda Davis, Verdell and Michele White. Verdell died on August 3, 1991.
Ruth herself left the Davis Sisters in 1962, due to a falling out with her sisters, and formed a new group called the Ruth Davis Specials of New York City. They recorded one album that Savoy issued as being by "Ruth Davis and the Davis Singers." In the meantime, the remainder of the group—Alfreda and Audrey Davis, Verdell, Dublin and newcomer Lela Dargan—cut a live album in Little Rock, Arkansas, for RCA Victor. By 1966, however, Ruth had rejoined her sisters, with Cynthia Young in place of Verdell, and was recording again for Savoy. Prior to Ruth's death on January 2, 1970, from complications of diabetes, high blood pressure and liver and kidney disease, the Davis Sisters made an album for HOB Records.
—Lee Hildebrand