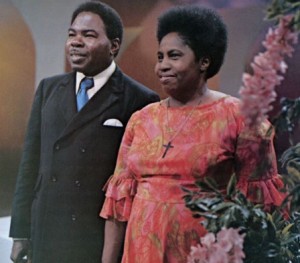 The most popular husband-and-wife singing duo during gospel's golden age was Sullivan and Iola Pugh, better known as the Consolers. Their folkloric style, cultural historian Anthony Heilbut noted, combined elementary tunes with sentimental messages that expanded the thematic content of gospel lyrics.
Born October 1, 1925, in Moore Haven, Florida, Sullivan lost his mother at age three when she was among the estimated 2,500 killed by the Great Okeechobee Hurricane of September 26, 1928, one of the biggest natural disasters in United States history. Motherless, he and his siblings were adopted by James and Virginia Pugh. When he was grown, Sullivan moved to Miami.
Like Sullivan, Iola Lewis, born July 22, 1926, in Cottonton, Alabama, also lost her mother at age three. Raised by her maternal grandmother, Iola eventually moved to Columbus, Georgia, to complete high school and attended Claflin College (now Claflin University), an HBCU located in Orangeburg, South Carolina, before settling in Miami in 1949.
Iola and Sullivan met at a Miami tent revival service and married on March 11, 1950. Around 1951 or 1952, they and Pearl Nance-Rayford formed a vocal trio called the Miami Soul Stirrers. When Pearl left the group, the Pughs continued as a duo, first billed as the Consolators, but when a minister suggested "Consolers" was the more proper term, they changed to the Consolers. Sullivan played a percussive guitar and sang; Iola, whose inspirations included Marion Williams and Mahalia Jackson, accompanied on vocals.
The Consolers made their first records in Miami in 1952 for Henry Stone, an entrepreneur whose 1970s releases on George McCrae and KC and the Sunshine Band for his T.K. Records imprint helped usher in the disco trend. Between 1952 and 1954, the Consolers released three discs for Stone. Their first single, on Glory Records, was the only record released by the Miami Soul Stirrers with Pearl Nance-Rayford.
In 1955, the Consolers signed with Nashboro Records. Their initial release, Give Me My Flowers, was a huge and lasting gospel hit that inaugurated a more than 25-year span of successful singles and albums for the company. From Sullivan's pen came such classics as Waiting for My Child, May the Work I've Done Speak for Me, Around God's Throne and Thank God Things Are as Well as They Are. Religious audiences connected with these mini homilies and morality plays set to music.
As members of the Church of the Living God, a Holiness denomination, the Consolers adhered to the "in the world, not of the world" credo. It informed their no-frills traditional sound, the cautionary messages in their lyrics, their modest attire, their commitment to faith and family and their conventional public persona.
Nevertheless, Nashville producer Shannon Williams told Heilbut that on occasion, Iola would get so caught up in a song that she would shout, or "get happy," in the recording studio. Heilbut added that Iola was also an astute businesswoman, selling candy and hats in addition to Consolers records at their performances.
The Pughs traveled the country on the strength of their record sales, propelled in large part by extensive exposure on WLAC, Nashville's 50,000-watt radio station. At one time, the Consolers' record sales were surpassed only by the Reverend James Cleveland in gospel music. Indeed, in the early 1960s, the Consolers regularly joined Cleveland and the Angelic Choir, the Caravans and the Staple Singers at the top of the Billboard gospel charts. The duo's visibility expanded after Heilbut secured for them an appearance at the 1972 Newport Jazz Festival.
If gospel music had changed in the 1980s, the Consolers' sound had not. The Pughs continued to record their country revival–style songs and melodies for Savoy (Jesus Brought Joy and Give God Thanks) and for Atlanta International Records (Jesus, I Love You). It was through their association with these two labels that they became connected with Malaco Records.
Iola's death on October 11, 1994, marked the end of the Consolers, but the group's impact on music endured. Sullivan (and Iola, posthumously) received a Florida Folk Heritage Award in 2002. The following year, they were inducted into the International Gospel Music Hall of Fame. The Consolers Progressive Charity Club continued to provide support to the Miami area's needy.
In 2004, Sullivan sang Speak for Me on Malaco's Gospel Legends DVD, joining fellow veterans of the gospel highway, such as Ira Tucker, Dorothy Norwood, Margaret Wells Allison and Shirley Caesar in this celebration of traditional gospel music. Sullivan Pugh died at age 85 on December 30, 2010.
—Robert M. Marovich