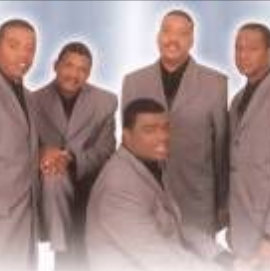 The Christianaires were an award-winning gospel quartet that was formed in 1979 in Sontag, Mississippi, by brothers Paul and Tyrone Porter and their cousins Arnold and Ronald Brown (also brothers). Their style combined the bluesy traditional gospel quartet style with contemporary musical accompaniment and arrangements.
In 1985, after six years of singing on church and auditorium programs, the quartet released its debut album, Ain't No Way I Can Lose, with its popular title track, on Atlanta International Records (AIR). By this point, Martin Williams and James Lee joined the Christianaires. Arnold Brown and George Carter were other early members of the quartet.
Walking With Me was released on the Malaco subsidiary Muscle Shoals Sound Gospel in 1989. The following release, 1990's Another Step Forward, also on Muscle Shoals Sound Gospel, was the group's first album to make the Billboard Top Gospel Albums chart. Another Billboard charting album, 1993's The Vision Becomes Clearer, produced the radio hit Two Wings and earned a Stellar Award nomination for Best Gospel Quartet Performance. A James Cleveland composition with the Christianaires' traditional quartet touch, Two Wings has become the group's signature song. It has been anthologized on several various artist projects.
In 1995, when Arnold Brown left to enter the ministry, Paul and Tyrone's older brother, Charles Porter, joined the Christianaires. He added to the group's strong staff of lead singers. That same year, AIR re-released Ain't No Way I Can Lose as Thru the Storm; it helped earn the quartet a Vision Award. Three years later, Standing Room Only (Light Records) found the Christianaires reprising their earlier hits, including Two Wings, Ain't No Way I Can Lose, Saints Hold On and Everything Is Gonna Be Alright for a live audience.
In 2000, the group joined the Williams Brothers on their series of Soul Link Live albums for Blackberry Records. The CDs brought together some of the era's leading lights in gospel quartet singing, including the Canton Spirituals and Lee Williams & the Spiritual QCs, for a live recorded performance. Thank You (Marxan, 2001) provided another Christianaires staple, No, No, No. Another live album, 2004's Stand Up! Live, followed.
After a brain aneurysm that nearly took his life, Paul Porter left the Christianaires to launch a successful solo career, starting with A New Day (Light, 2008). Paul's departure essentially ended the Christianaires. Light Records honored the quartet with a release of its top hits on its Gospel Legacy series. Although the group is gone, Tyrone Porter remains one of gospel quartet's most stalwart spokespersons, serving as president of the Quartet Division of the Gospel Music Workshop of America.