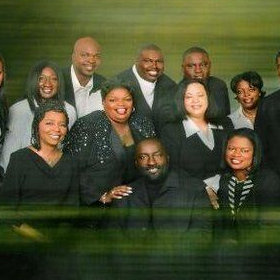 The Barnes Family is to Rocky Mount, North Carolina, what the Winans, Clark and Moss families are to Detroit and the Hawkins Family is to the Bay Area: a gospel music dynasty.
That dynasty started with the family patriarch, the Reverend F.C. Barnes (1929–2011). He founded Red Budd Holy Church in Rocky Mount in 1959 and infused his love of traditional gospel music and hymns into its services. Known for years through Red Budd's local radio broadcasts, Barnes became a popular recording artist in 1983 when he and assistant pastor, the Reverend Janice Brown, recorded the classic Rough Side of the Mountain. The song and album of the same title were released on the fledgling Atlanta International Records (AIR). The album is reported to have sold a half million copies in two years, putting AIR solidly on the map.
From the duo's first album for Consolating Sound in 1981 to its successive releases on AIR, it was clear that they benefited greatly by vocal and instrumental support from other Barnes family members. F.C.'s sons Luther, Samuel, Melvin and Tony could sing and play various instruments. His niece Deborah was a lead vocalist with the Red Budd Gospel Choir. Luther garnered particular interest because he was the director of the Red Budd Gospel Choir and lead vocalist for the Sunset Jubilaires, a quartet comprised of Barnes family members.
In 1999, AIR took full advantage of the collective musical talent at Red Budd by releasing a two-disc set called A Live Reunion. The 25-song project, recorded on CD and DVD at OIC Auditorium in Rocky Mount in March 1998, featured F.C. and Company (Deborah, Wanda and Lisa Barnes), Luther Barnes and the Sunset Jubilaires and the Red Budd Gospel Choir on fan favorites such as When It Rains, It Pours and Rough Side of the Mountain. The positive response that the project received inspired AIR to release a follow-up in 2008, The Barnes Family Reunion II. Also packaged as a two-CD collection with DVD accompaniment, the second collaboration featured more individual and collective contributions of F.C. (now a Bishop), Luther and the Sunset Jubilaires, Melvin and Martha Barnes, Deborah Barnes and Mark Greene and Family. It produced the Luther Barnes and Sunset Jubilaires single I'll Make It Someday. Old Revival Medley, led by Luther and Deborah, was a delightful nine-minute tour de force that represented the family's old-school church vibe at its finest.
After more than 30 years in the gospel music field, and even after the loss of family patriarchs Rev. F.C. and William "Man" Barnes, the Barnes Family shows no signs of slowing down, thus proving the adage that a family that sings together stays together.
—Robert M. Marovich