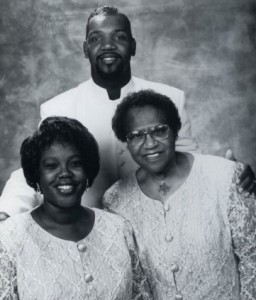 One of the most popular female groups during gospel's heralded golden era (1945–1960), the Angelic Gospel Singers linked the close harmony singing of pre-war gospel quartets and jubilee groups with the propulsive piano-organ gospel style that gained popularity among postwar gospel music enthusiasts.
Singer, songwriter and pianist Margaret Wells "Babe" Allison organized the Angelics in Philadelphia, Pennsylvania. Born September 25, 1921, Allison was part of the Great Migration, moving north with her parents from McCormick, South Carolina, to Philadelphia. Allison joined Philadelphia's Spiritual Echoes gospel singers, but one night in 1944, she dreamt that she should start her own group and call it the Angelic Gospel Singers. Allison recruited her sister, Josephine Wells McDowell, and two members of the Spiritual Echoes, Ella Mae Norris and Lucille Shird, to form the Angelics.
The Angelic Gospel Singers' first commercial recording in 1949 proved to be their biggest and most enduring. Touch Me Lord Jesus, a Lucie Campbell composition, was a favorite on black radio, made Billboard's R&B charts and is alleged to have sold more than a million copies. Not long after, the group released Glory, Glory to the Newborn King, which at one time was as popular a Christmas song in the African American community as Irving Berlin's White Christmas was in the white community. Sometimes referred to as Oh What a Wonderful Child, Glory, Glory to the Newborn King remains a Christmas staple, more than 60 years after its release. The Mississippi Mass Choir included the song on its 2007 Christmas album for Malaco, We Have Seen His Star.
The Angelics' successful 1950 tour with the Dixie Hummingbirds inspired Ivin Ballen, for whose Gotham Records both groups were signed, to record the groups together. Combining a male and female group in the recording studio was unheard of in gospel music at the time, but the results, which featured lead vocals by Allison and the Dixie Hummingbirds' Ira Tucker, were several electrifying selections, including Standing Out on the Highway and Dear Lord, Look Down Upon Me.
During the 1950s, the Angelics recorded many gospel music staples, among them Angels Watching Over Me, There Must be a Heaven Somewhere, Just Jesus, Tell the Angels, Milky White Way and Since Jesus Came into My Heart.
Allison remained the group's manager and anchor over the years, and throughout several personnel changes, especially after the Angelics exited Gotham and signed with Nashboro Records in 1955. Bernice Cole and Thomas Mobley were among the new recruits; Cole stayed an Angelic for many years thereafter. Besides reprising Touch Me Lord Jesus, the Angelics produced a nearly 30-year run of hit singles and albums for the Nashville-based label before joining the Malaco Records family in 1983.
Their 1987 Malaco single, I've Got Victory, put the Angelic Gospel Singers back in gospel radio rotation. Other hit singles followed, most notably a reprise of their earlier hit Out of the Depths, as well as Somebody's Praying for Me, Thank You Lord for One More Day and It Could Have Been the Other Way. During their Malaco years, the Angelics' lineup included Allison, McDowell and Cole, along with Pauline Turner, Charles Thomas, Theresa Burton, Lewis White and Darryl Richmond. Malaco's Darrell Luster played guitar on some of their 1990s sides.
Not long after recording the CD Touch Me Again for Malaco, Margaret "Babe" Allison, the last remaining member of the original Angelic Gospel Singers, died in Philadelphia on July 30, 2008, at age 86.
—Robert M. Marovich