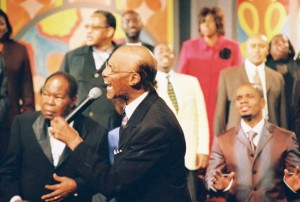 The Highway QC's would be guaranteed a permanent spot in the history of gospel music for no other reason than two of American music's biggest superstars, Sam Cooke and Johnnie Taylor, were once the group's lead vocalists. But there is much more to the Highway QC's story.
Formed in Chicago's Bronzeville neighborhood in the mid-1940s, the original Highway QC's consisted of brothers Lee and Jake Richardson, Gus Treadwell, Creadell Copeland and Marvin Jones. The youth were affectionately referred to as the Soul Stirrers Juniors because they received vocal coaching from R.B. Robinson of the Soul Stirrers, employed Soul Stirrers vocal techniques and substituted for the Stirrers on their radio program when the elder group was out of town.
The QC's received their first professional break when they sang on a September 26, 1948, program at Chicago's Wendell Phillips High School, opening for national acts such as the Fairfield Four, Flying Clouds of Detroit and the Soul Stirrers. Donning blue uniforms with matching white pocket-handkerchiefs, the QC's hit harmonies like their idols.
Louis Tate, a steelworker who attended the Wendell Phillips program, was impressed by the young men and offered to be their manager. Under Tate's leadership, the QC's traveled to cities such as Detroit, where they caught the ear of the Reverend C.L. Franklin. Memphis radio personality Reverend Dwight "Gatemouth" Moore invited them to perform on his program over 50,000-watt WDIA. The QC's secured their own 15-minute radio show that aired Sunday mornings on Chicago's WIND, coming on the air with their theme, When We Bow in the Evening at the Altar.
What most sold the QC's to the gospel audience was the warm smile, personality and relaxed singing of Sam Cooke, who joined the QC's in 1947. When the Soul Stirrers recruited Cooke in 1951 to replace their departing lead, Rebert Harris, the QC's enlisted sound-alike singer Johnnie Taylor. It was while Taylor was in the lineup that the QC's secured a deal with Vee-Jay Records. They scored a big hit in 1955 with Somewhere to Lay My Head. They followed with more popular singles such as Pray, I'll Trust His Word, He Lifted My Burdens and the buoyant I Dreamed Heaven Was Like This.
By early 1956, the QC's added another Taylor to its ranks. Spencer Taylor (no relation to Johnnie) was a fortuitous acquisition because he would lead the quartet for the next 60-plus years. Spencer Taylor migrated to Chicago around 1947 and began attending Greater Harvest Baptist Church, where he met and sang with the Holy Wonders. Taylor entered the service and was recruited by the Highway QC's when he returned to civilian life in late 1955.
In 1957, several original QC's left to focus on family and work responsibilities. Meanwhile, the Soul Stirrers came recruiting again, this time sweeping up Johnnie Taylor to take Sam Cooke's place after Cooke departed to chase pop stardom. Spencer Taylor assumed lead duties and recruited former Holy Wonders singers James Walker and Chris Flowers to fill the gaps.
The new iteration of the QC's became nearly as popular as the Soul Stirrers. With Spencer Taylor on lead and the addition of guitarist Arthur Crume from the Swan Silvertones, the QC's released a string of hits for Vee-Jay Records during the 1950s and 1960s, including He Said (1960), Do You Love Him (1961) and All Men Are Made By God (1962). The group moved to Peacock after Vee-Jay went bankrupt in 1966. From 1975 to 1983, the QC's recorded several albums for Savoy Records, including You Don't Know How Blessed You Are, Do You Love Him and Something's on My Mind (That's Worrying Me).
The group's current record label, Malaco/4Winds, released It Hasn't Always Been Easy in 2007, which includes a new version of Somewhere to Lay My Head, and Work a Miracle in 2010, with the title track and Since Jesus Came Into My Life as radio singles. Spencer Taylor appeared on Malaco Records' Legends of Quartet, alongside Thomas Spann (Brooklyn All Stars), Jo Jo Wallace and Horace Thompson (Sensational Nightingales), Willie Rogers (Soul Stirrers), Clay and Cleve Graham (Pilgrim Jubilees) and Percy Griffin (Swanee Quintet).
Octogenarian Spencer Taylor continues to lead the Highway QC's, now comprised of a new generation of singers, including his sons, although QC's veterans Stanley Richardson and Joseph Britt join the group at appearances from time to time. In March 2017, Spencer Taylor received a Lifetime Achievement Award from the Stellar Awards at its celebration in Las Vegas, Nevada. The Highway QC's continue to record and tour as indefatigably as ever.
—Robert M. Marovich