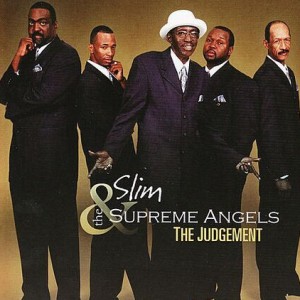 Originally known as the Paramounts, the Supreme Angels quartet was organized in Milwaukee, Wisconsin. Its best-known lead singer, Howard "Slim" Hunt, was born to a sharecropping family in Walnut Grove, Mississippi, on December 13, 1934. As a teenager, Hunt moved to New Orleans, where he took a job on a sightseeing boat called The Steamer President. Hunt then migrated north to Milwaukee in 1953, and in 1958 was singing with the Soul Seekers when the Supreme Angels recruited him as vocalist and guitarist.
The year 1958 also saw the Supreme Angels become national recording artists when they signed with Nashboro Records. They enjoyed a string of top-selling albums and singles for Nashboro between 1958 and 1980. Among their bigger hits during this period were He'll Understand and Say Well Done, If I Am Too High (Lord Bring Me Down), By and By and Shame on You.
The Supreme Angels personnel during the Nashboro era included Hunt, Daniel Scott, Tommie L. Seymore, Gregory Kelly and Alphonso Dent. Another quartet legend, singer-guitarist Robert Lee "Sugar" Hightower, formerly of the Hightower Brothers, joined the group in the mid-1970s.
During the 1980s, the Supreme Angels recorded for a variety of labels, including Hoyt Sullivan's HSE Records, Leonard Williams' Melendo imprint (1988's Death and the Beautiful Lady charted in Billboard), Melotone and Grammercy, which landed two albums on the Billboard chart in the mid-1990s. By that point, Hunt had entered the ministry and organized two churches: the Deliverance Temple Church of God in Christ in Goldsboro, North Carolina, and the Deliverance Temple in Dillon, South Carolina. He continued to sing with the group, and in 1997 the quartet earned a Grammy nomination for Best Traditional Gospel Soul Album.
The 2000s found the group recording for MCG Records and then moving to Malaco, where they recorded The Judgement (2007). The album was part of Malaco's Yes! Quartet campaign and produced the popular Death and the Beautiful Lady and Where Shall I Be. It also turned out to be Hunt's last recording. He died in Goldsboro on February 25, 2007, at age 72.
The Supreme Angels pressed on without their longtime leader, recording Reloaded for Malaco in 2009, with its infectious What's the Matter with Jesus. Taking Hunt's place was his son, Quincy "Lil' Slim" King. But then Seymore passed away on April 10 of the following year and Hightower died on August 24. Alphonso Dent died on October 4, 2012. Resilient as ever, the Supreme Angels are still singing, buoyed by a roster that has included, at one time or another, Michael Kimpson, Michael Boykin, Gregory Kelly and Maurice Robinson.