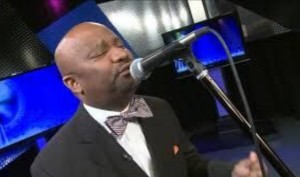 The Reverend Shadrach Robinson comes from a family filled with gospel music royalty. His father was the world-renowned singer and preacher Reverend Cleophus Robinson Sr. (1932–1998). Josephine James, his aunt, was an in-demand gospel singer who recorded successful duets with her brother, Cleophus Sr. Shadrach's grandmother Lillie; his mother, Bertha; his brothers, Paul and Cleophus Jr.; and nephew Cleophus III are other family members who have contributed their talents to gospel music and church ministry.
The youngest son of Reverend Cleophus Sr. and Bertha Robinson, Shadrach Robinson was born in St. Louis, Missouri, around 1969. He cut his first album, Living for You, on Nashboro Records at age thirteen. Not only does the album include a cover of his father's hit Wrapped Up, Tied Up, Tangled Up, but it opens with an introduction from Dad himself.
In 1989, Shadrach sang and contributed keyboards to his father's Atlanta International Records release, The 89 Edition. One cut, Just Another Day, featured the Robinson Brothers—Shadrach, Paul and Cleophus Jr.—singing as a trio with their father. Alongside the Mississippi Mass Choir and the late Frank Williams, Shadrach assisted Cleophus Jr. on the latter's 1993 Malaco solo release, Back Again. He has written songs for several Malaco artists, notably the Pilgrim Jubilees, Dorothy Norwood and the Mississippi Mass Choir.
Shadrach credits Prince, Stevie Wonder and the Gap Band as among his music inspirations. The impact of this mélange of influences can be heard on Shadrach's 2004 album, I Won't Worry No More (Juana), and on his 2013 release, Grace Instead (Crooked Thumbs Music). Grace Instead includes Living Without You, a duet with Jacqui Melton. It oozes with Isley Brothers cool as Shadrach and Jacqui contemplate how empty life would be without Jesus. Reverend Shadrach Robinson pastors Friendship Missionary Baptist Church in St. Louis.