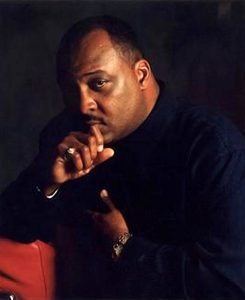 No history of Detroit gospel music, or gospel choir music for that matter, would be complete without including the name and accomplishments of Pastor Rudolph Stanfield Jr. Like the late Minister Thomas Whitfield, Stanfield—as a songwriter, organist, group leader and producer—helped develop a more sophisticated style of gospel music.
Born in Detroit, Michigan, to Reverend "Lady" Marva Lee Stanfield and Bishop Rudolph Stanfield on December 3, 1959, "Rudy" Stanfield began pursuing music at age four under the guidance of his grandmother, Macie Lee Stanfield.
Even as a teenager, Stanfield was an in-demand keyboard accompanist for gospel artists. He backed gospel singer Ruth Busbee on He Loves Me, her 1978 album for Savoy that also featured Detroit's Thomas Whitfield Company. He accompanied the Craig Brothers on two of their Savoy offerings, James Cleveland Presents the Craig Brothers "Live" (1980) and He Wants a Place (1982). He wrote the title track for Keith Pringle's 1984 solo album, Perfect Peace. Victory Shall Be Mine, Stir up the Gift, Never Alone, Hold On and Tell It are among the more than 500 songs Stanfield has written or arranged.
On January 16, 1982, Stanfield formed Rudolph Stanfield and New Revelation. The group's Sound of Gospel disc Live & In Praise II led Billboard to name the ensemble one of the top ten gospel artists of 1994. Stanfield and New Revelation recorded Millennium Praise for Malaco in 2001; it featured the expressive voice of another Detroit gospel veteran, Vanessa Bell Armstrong, on When God Says Yes.
A Stellar-winning and Grammy-nominated artist, Stanfield has produced or co-produced and has served as accompanist for a veritable who's who of gospel music, particularly many top stars from Chicago, Detroit and the Church of God in Christ. He produced and sang on It Ain't Over (Till God Says It's Over), the 1997 Malaco release by his cousin, the late Reverend James Moore. Stanfield also produced and sang on Moore's final album, the March 2000 Malaco recording, Family and Friends, Live from Detroit. Even Stanfield's father, Bishop Rudolph Sr., appeared on the album, singing the traditional gospel blues I Know the Lord Will Make a Way.
In addition to producing, co-producing, writing, arranging and appearing on more than 150 gospel albums, Stanfield also helped arrange Donny Hathaway's Someday We'll All Be Free for Aretha Franklin to sing as part of the soundtrack for X, Spike Lee's biographical film about Malcolm X. This was not the first time Stanfield worked with "The Queen of Soul"; he has been her accompanist from time to time for nearly 30 years.
Stanfield accepted the call to ministry, and on January 14, 2001, he founded Pentecostal Life and Praise COGIC in Taylor, Michigan, where he serves as pastor. In addition to his pastoral duties, Rudolph Stanfield Jr. continues to play many active roles in today's gospel music scene. In 2004, for example, he produced the Anderson Sanctuary Choir's Malaco release, Joyful Praise, and wrote Lord, I Thank You for the album.