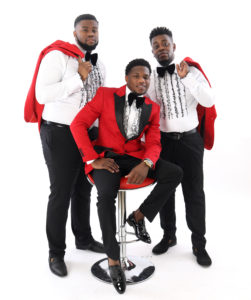 Fronted by Stanley Roy Ladson Jr., better known as Lil' Roy or the "Prince of Quartet," Roy & Revelation was organized in 1996 in Hopkins, South Carolina, by James Adams Jr. When Adams retired, Ladson, his brother Stephen Raynard Ladson and Jason Eric Smith kept the group traveling, performing and steadily building its fan base. Roy & Revelation's debut album, Keeping the Kuntry Alive, was released independently in 2001.
In 2011, Ray Braswell Jr. recorded the group live at Bibleway Church of Atlas Road in Columbia, South Carolina. The title track of the 11-song CD and companion DVD, Thank You, evokes the danceable 1960s R&B and soul hits of the Isley Brothers and the Contours. The album also includes other fan favorites, such as I Got the Love of Jesus, One More Time, He's My Everything and Doctor Jesus. The quartet signed with Malaco in 2012, and Thank You was released on the 4 Winds imprint. One media outlet commented: "[Roy & Revelation] will make you think you just popped a quarter in a late 1950s jukebox."
Roy & Revelation's influences range from the Canton Spirituals to Willie Banks. They also pay tribute to their relatives Deacon Pelham Myers and the Five Singing Stars, who paved the way for the young quartet. An indefatigable touring group, Roy & Revelation has shared the stage with the Canton Spirituals, Pastor Shirley Caesar and other top national gospel artists and quartets, such as the Williams Brothers, Lee Williams & the Spiritual QCs, Doc McKenzie and the Hi-Lites and Tye Tribbett.
In addition to the Ladson brothers, the quartet has benefited from the vocal and instrumental talents of brothers Jarred and Justin Rufus, Viashaun Stephens, Derrick Lowman, Barris McWhite, Mario Smith and Antwain Taylor. Will You Be Ready, a single from their sophomore album, Blest By the Best, reprises the hard-driving, up-tempo propulsion of Thank You. The album is slated to be released on 4 Winds in September 2016.