Roberta Martin Singers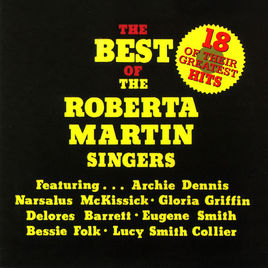 Singer, pianist, songwriter, arranger and music publishing entrepreneur Roberta Martin was one of the most innovative and influential figures in the history of gospel music. A direct disciple of pioneering gospel tunesmith Thomas A. Dorsey, she formed her own singing group, originally known as the Martin and Frye Quartette, in 1933. As the Roberta Martin Singers, they remained active until shortly before her death in 1969 at age 61.
The Roberta Martin Singers "gave gospel its signature ensemble sound," Robert M. Marovich stated in his book A City Called Heaven: Chicago and the Birth of Gospel Music.
In The Gospel Sound: Good News and Bad Times, Anthony Heilbut wrote that "Roberta's contralto was refined and subdued, eschewing its greatest effects though timing and phrasing."
And in The Cambridge Companion to Blues and Gospel Music, Adrian York wrote, "Roberta brought elements of a Western classical sensibility to gospel both though her piano playing, which is characterized by both a lightness of touch and richness of tone, and her harmonic knowledge through which she developed a series of chord substitutions and harmonic cadences that are still part of the gospel sound today."
Herself influenced by the blind Pentecostal pianist Arizona Dranes, Martin mentored future gospel stars James Cleveland and Alex Bradford. Cleveland, in turn, coached young Aretha Franklin, while Bradford affected Ray Charles' approach to the piano.
Roberta Evelyn Martin was born in Helena, Arkansas, on February 12, 1907, and ten years later moved to Chicago with her family. She began piano lessons at age six and learned choir directing from Mildred Bryant Jones at Wendell Phillips High School in Chicago. Jones inspired Martin to attend Northwestern University, where she continued her piano studies with hopes of becoming a classical concert pianist. Instead, she became accompanist, in 1932, for Thomas A. Dorsey and Theodore Frye's youth choir at the city's Ebenezer Baptist Church. She and Frye formed their smaller group a year later, its members including choir singers Robert Anderson, then 14; Willie Webb, also 14; James Lawrence, 13; Eugene Smith, 12; and Norsalus McKissick, 10. Smith and McKissick remained with the Roberta Martin Singers, as they became known in 1935, into the 1960s.
In 1939, Bessie Folk became the first women to join the group. She was followed in the 1940s by singers Delois Barrett and Sadie Durrah and organist and sometime vocalist Lucy Smith. Each vocalist took turns singing leads, establishing a cooperative pattern that would soon be followed by such groups as the Ward Singers, Davis Sisters and Caravans.
Also in 1939, Martin established the Roberta Martin Studio of Music, a company that not only published her own compositions and arrangements but also songs by
Webb, Lucy Smith, Bradford, Cleveland and others. Similar businesses were soon launched in Chicago by Frye and the partnership of Sallie Martin and Kenneth Morris.
In 1947, the Roberta Martin Singers made their earliest recordings for Religious Records in Detroit (including the hit Yield Not to Temptation featuring Barrett) and for the Fidelity label in Chicago, followed two years later by one 78 r.p.m. single for Recorded in Hollywood. From July 1949 to the middle of 1955, they cut 20 singles for Apollo Records in New York City, including the hits Only a Look featuring Folk, The Old Ship of Zion featuring McKissick, He Knows How Much We Can Bear featuring Martin and The Lord Will Make a Way featuring new member Myrtle Scott.
The group, comprising Martin, Barrett, McKissick, Eugene Smith, Lucy Smith and additional vocalists Gloria Griffin and Romance Watson, began recording for Savoy Records in January 1957. The singers, whose later members included Archie Dennis, Harold Johnson and Louise McCord, would record a total of 25 45 r.p.m. singles and a dozen LPs for the Newark, New Jersey, company through 1968.
Their first Savoy album, titled Twelve Inspirational Songs, was made up of 12 songs from two 1957 sessions. They included Wailing in Jerusalem and One Day (Crucifixion), both featuring Eugene Smith; Nothing But a God and It's Amazing, both featuring McKissick; Every Now And Then featuring both Eugene Smith and McKissick; Teach Me, Lord and a new version of Only a Look, both featuring Barrett; When He Sets Me Free featuring Watson; Nobody Knows featuring Griffin; and Sinner Man, Where You Gonna Run To featuring Martin herself.
Among the Roberta Martin Singers' hits on Savoy were Grace featuring McKissick (1958), Hold the Light featuring Griffin and Lucy Smith (1959), No Other Help I Know featuring Martin and Folk (1962) and There Is No Failure in God featuring McKissick (1963).
Martin died from cancer on January 16, 1969. Some 50,000 Chicagoans attended her funeral at Mount Pisgah Baptist Church. The New York Times and Jet magazine were among the numerous publications that made no mention of her passing.
A 1981 Smithsonian Institution conference on Martin brought McKissick, Eugene Smith, Folk, Barrett, Lucy Smith, Griffin, Watson, Dennis and McCord all together, with Richard Smallwood supplying the piano accompaniment. More reunion concerts continued into the '90s.