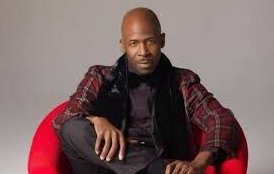 One of contemporary gospel music's most celebrated choir directors, Ricky Dillard burst onto the national scene in 1990 with the release of The Promise and its lead single, More Abundantly. The contrapuntal section work of Dillard's New Generation Chorale delighted legions of music ministers who were eager to teach the spirited song with the distinctive arrangement to their church choirs.
Born February 25, 1965, in Chicago Heights, Illinois, Dillard began singing in the St. Bethel Baptist Church youth choir and eventually became its director. Drawing influence from Dr. Mattie Moss Clark, the Reverend Milton Brunson, Dr. Charles G. Hayes, Benny Cummings, the Reverend James Cleveland, Marvin Yancy and Thomas Whitfield, Dillard organized the first gospel choir at Bloom High School in 1981.
He enrolled in Columbia College Chicago intent on a career in radio, but, finding college uninspiring, he spent time recording dance and hip-hop records. In 1984, he joined the Thompson Community Singers and four years later organized the New Generation Chorale (later shortened to New G); some of the members came from his Bloom High School gospel choir. Initially, Dillard's concept of New G was to empower its singers to take what they learned as choir members into their own church music ministries. But when New G won McDonald's Chicagoland choir competition in 1989, the exposure led to the choir's first record, The Promise. Released on Malaco subsidiary Muscle Shoals Sound Gospel, the debut was the first in a string of Dillard projects to make Billboard's Top Gospel Albums chart. It earned a Grammy nomination for Best Contemporary R&B Gospel Album and an Excellence Award from the Gospel Music Workshop of America.
In 1993, Malaco released New G's follow-up offering, A Holy Ghost Take-Over, featuring songs by Dillard as well as by other talented songwriters such as the Reverend Quincy Fielding Jr. and Rudolph Stanfield. Soon-to-be gospel solo artist Bridgette Campbell led Lord You Are All. The album earned the group a 1994 Stellar Award for Contemporary Choir of the Year. Hallelujah!, also on Malaco, followed in 1995. By this point, Dillard and New G had also appeared on film (Steve Martin's 1992 comedy Leap of Faith) and television (Patti LaBelle's 1991 PBS special, Going Home to Gospel).
Signing with Detroit's Crystal Rose label in 1996, Dillard and New G released the top-selling No Limit (2000) and the Grammy- and Dove-nominated Unplugged . . .The Way Church Used to Be (2004), which featured the church-wrecking songstress LaVarnga Hubbard leading Let Us All Go Back.
Still active 30 years after its formation, Ricky Dillard and New G continue to introduce new songs into the church choir canon. The Praise and Worship–flavored title track of 2014's Amazing brought the choir four Stellar Awards, another Grammy nomination and an appearance on Billboard's Top 200 albums chart. The album included guest turns from Pastor DeAndre Patterson, Praise and Worship pioneer Byron Cage and Grammy Award–winning soloist Le'Andria Johnson.
The 2017 Reverend Dr. Martin Luther King Jr. holiday found New G in Washington, DC, to record its tenth album, the aptly titled 10, for Entertainment One. Guest soloists included Tina Campbell (Mary Mary), Karen Clark Sheard (Clark Sisters), BeBe Winans and Le'Andria Johnson.