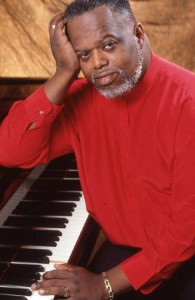 On the morning of July 5, 2008, the gospel music community awoke to learn that a car carrying the Reverend Timothy Wright, his wife Betty and grandson D.J. from a Church of God in Christ conference in Detroit back to New York was involved in a three-car accident.
The Wright's car was struck by a driver going the wrong way on Interstate 80 near Loganton, Pennsylvania. Betty, D.J. and the driver of the other car were killed instantly. Timothy was in critical condition and despite heroic efforts at recovery, died of his injuries on April 24, 2009.
It was a tragic end for Wright, whose music and ministerial legacy spanned nearly four decades and earned him the honorific "The Godfather of Gospel." Born June 17, 1947, in the Bedford-Stuyvesant section of Brooklyn, New York, Wright sang and composed songs for St. John's Fire Baptized Holiness Church of God in Christ (COGIC) as a teenager. In his early 20s, Wright became minister of music for Brooklyn's Washington Temple COGIC. He made his first LPs in the mid-1970s with the church's Celestial Choir and accompanied the Brooklyn Skyways on piano and organ for the quartet's 1975 Savoy album, I Know the Lord Laid His Hands on Me.
Wright's talent caught the attention of several musicians, most notably Dr. Mattie Moss Clark and the Reverend Isaac Douglas. Douglas invited Wright to compose all but one of the songs for his 1972 Glori Records release, A Little Higher. By 1976, Wright had assembled his own group, the Timothy Wright Concert Choir, and recorded with them.
Wright signed with Savoy Records in the late 1980s and stayed with the company through the early 2000s. He recorded with the Timothy Wright Concert and Mass Choirs and released churchy songs such as Who's on the Lord's Side. He also assisted other ensembles recording for Savoy. For example, he joined the Reverend Dr. Clay Evans and the Fellowship Baptist Church Choir on their 1990 release, Reach Beyond the Break, and Dr. Jonathan Greer and the Cathedral of Faith Choir on He's Worthy. He participated on the Chicago Interdenominational Mass Choir's 1991 album, Trouble Don't Last Always, the New York Fellowship Mass Choir's Grammy Award-nominated Come Thou Almighty King (1994) and the London Fellowship Choir's Live in London (1995). A 1999 collaboration with Myrna Summers and the B/J Mass Choir, Been There Done That, gave Wright his second Grammy nomination.
Wright and the New York Fellowship Mass Choir released a three-volume series titled Live in New York for Atlanta International Records. Their 2007 single for Koch, Jesus Jesus Jesus, about a woman displaced by Hurricane Katrina, was still going strong among gospel music enthusiasts when the tragic auto accident occurred.
Pastor David Wright has continued the family's rich legacy by releasing albums featuring the Reverend Timothy Wright Memorial Choir and by pastoring the Grace Tabernacle Christian Center COGIC in Brooklyn that his father once led. Another son, Derrick, is the music director and touring drummer for pop superstar Adele.