Reverend Milton Brunson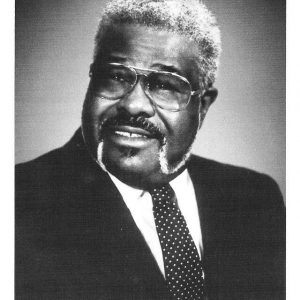 When he founded the Thompson Community Singers in 1948, the Reverend Milton Brunson established what would become one of the nation's first and most successful community choirs operating within the gospel music tradition.
Born June 28, 1929, in Chicago, Illinois, Brunson organized the Thompson Community Singers, known colloquially as the "Tommies," in the basement of St. Stephen African Methodist Episcopal Church on the city's West Side. The original 40-member choir consisted primarily of Brunson's schoolmates at McKinley High School. The group initially sang spirituals and show tunes and later incorporated gospel songs into its repertory. Early accompanists were Delores Mercer Chandler and Robert Williams.
The Reverend Eugene Thompson, pastor of St. Stephen and the choir's namesake, introduced the young group to churches throughout Chicago's West and South Sides. Soon, the Tommies were a staple at the city's gospel programs. They even traveled to Detroit for an appearance at the Reverend C.L. Franklin's church, where a young Aretha Franklin sang with them.
The Tommies gave a generation of latchkey children a constructive and spiritually grounded, out-of-school outlet, but the choir also had a civic objective to establish a community space for West Side youth. They succeeded when an 11-room center opened on February 2, 1960.
Brunson entered the ministry in 1962 and two years later became pastor and music director of Christ Tabernacle Missionary Baptist Church. Initially meeting at the A.A. Rayner & Sons Funeral Home, Christ Tabernacle secured a site of its own and began broadcasting its worship services over the radio on Sunday evenings.
The Tommies did not record until 1963. Richard Simpson produced their first album, Yes Jesus Loves Me, released on Vee-Jay Records. Brunson narrated and sang, his coarse baritone evocative of James Cleveland, while the choir sang with youthful zest. The second album, 1964's The Soul of the Thompson Community Singers, also on Vee-Jay, featured songs and arrangements from emerging singer-songwriter Jessy Dixon.
Brunson's commitment to professionalism helped the Tommies secure appearances at some of the country's top venues, including the Apollo Theater and Madison Square Garden in New York. The group also toured Europe and recorded albums with Inez Andrews, Shirley Caesar, Beverly Glenn and Jessy Dixon (under the pseudonym of the Chicago Community Choir).
In 1969, the Tommies landed their first major hit, I'll Trade a Lifetime, led by Maggie Bell Childs. The song helped set the choir on a path to enormous success. Ten of their albums made Billboard's Top Gospel Albums chart; five hit No. 1. Music ministers eagerly awaited each Tommies release so they could teach their choirs the new songs from songwriters such as Darius Brooks. After receiving a few Grammy nominations, the Tommies took home the Best Gospel Album by a Choir or Chorus Grammy in 1995 for Through God's Eyes.
So many stars were part of the Thompson Community Singers that the choir could be considered its own gospel music school. Tommies alumni include Percy Bady, Maggie Bell, Calvin Bridges, Darius Brooks, Ricky Dillard, Jessy Dixon, Delores Chandler, Leanne Faine, Richard Gibbs, Elsa Harris, Ethel Holloway, Kim McFarland, Vernon Oliver Price, Loretta Oliver, Delores Scott and Delores "Honey" Sykes. The 1960s R&B hitmaker Dee Clark claimed early membership.
In addition to I'll Trade a Lifetime and Through God's Eyes, other Tommies hits include Available to You, Safe in His Arms and If I Be Lifted. The Best of Rev. Milton Brunson and the Thompson Community Singers spotlights the choir's 1960s and 1970s HOB Records sessions, including I Thank God, If Everybody Was Like Jesus, The Lord Is Blessing Me and The Holy Ghost Is Here Right Now.
Besides pastoring his church and managing the choir, Brunson also was a gospel announcer on Chicago's WXFM. He died on April 1, 1997, at age 67. A branch of the United States Post Office located near his West Side church was named in his memory.