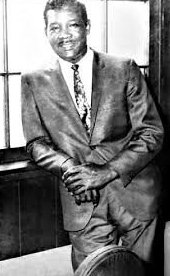 Reverend Julius "June" Cheeks was one of the giants during gospel's storied Golden Age. Many of his contemporaries cite him as one of the greatest gospel quartet singers of all time. His hard singing style, akin to a preacher in full whoop, inspired many young men and women to sing gospel with the same gutsy, raw style that he demonstrated.
Julius Cheeks was born of African American and Native American descent on August 7, 1929, in Spartanburg, South Carolina. Both parents were revered church singers whose communion with the spirit gave their children a comfort with spirituality.
He was discovered by Barney Parks, manager of the Sensational Nightingales, and was brought into the 'Gales, for whom he made his recording debut in 1951. Cheeks became the group's star for the remainder of the 1950s, leading such classics as See How They Done My Lord, Morning Train, Somewhere to Lay My Head and Burying Ground. His powerful voice was matched with fabulous showmanship.
Cheeks also worked briefly with the Soul Stirrers during the quartet's Sam Cooke era. The story goes that he helped Cooke gain the confidence to walk the aisles while singing by literally pushing him off the stage and onto the main floor during a gospel program. Cheeks reprised his lead on Somewhere to Lay My Head for the Mighty Clouds of Joy's 1969 tribute album to the Nightingales.
Upon the advice of his piano accompanist and wife, Marjorie, Cheeks left the 'Gales and formed his own quartet called the Four Knights. Their 1960s Peacock singles included a fiery version of Turn Your Radio On and the emotion-soaked Mother Sang These Songs.
Cheeks and the Four Knights signed with Savoy Records in 1978 and cut the album How Far Is Heaven, which produced the single Let a Child of God Go Home. This was the beginning of a relationship with Savoy that lasted for more than a decade.
During this time, Cheeks also recorded with members of his family, including Addie Jeter, Marguerite Jeter and Genobia Jeter-Jones, a gospel artist who married future R&B star Glenn Jones of the Modulations and whose niece is BET's Sunday Best champ Y'Anna Crawley. Glenn Jones and the Modulations led Harrison Johnson's classic I've Decided to Make Jesus My Choice on Cheeks' 1979 album We'll Lay Down Our Lives for the Lord, featuring the Young Adult Choir of Marshall Heights Baptist Church.
By the late 1970s, Cheeks' voice was shattered, the victim of hard singing and the trials of the gospel highway. Nevertheless, he pressed on, recording Somebody Left on That Morning Train for Savoy in 1980. He died on January 27, 1981, at age 51, just after recording At the Gate I Know, which Savoy released posthumously with the subtitle The Legend Lives On. In 2013, Cheeks' daughter Judy, a former dance music singer and recording artist, published a biography of her father called Love and Honor.