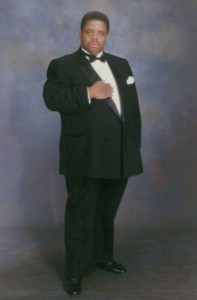 Like fellow Detroiter Thomas Whitfield, the Reverend James Moore, a noted gospel vocalist and recording artist, passed away in the prime of his career.
Born in Detroit, Michigan, on February 1, 1956, Moore absorbed the music emanating from the Motor City. Detroit gospel legend and entrepreneur Elma Lois Hendrix Parham encouraged the young Moore to join the Church of God in Christ (COGIC), where he studied the music technique of Dr. Mattie Moss Clark.
Savoy Records released Moore's first recording, I Thank You Master, in 1974 just months after the Gospel Music Workshop of America (GMWA) awarded him the Thurston Frazier Scholarship. Moore became a stalwart participant at GMWA and credited the organization for supporting his music ministry.
But, despite recording albums with the likes of the Hawkins Family and Daryl Coley, Moore did not break into the industry in a major way until his 1988 Malaco debut, Live. The album hit the Top 10 on Billboard's Top Gospel Albums chart, and album cuts Bread of Heaven and He Was There All the Time earned his a Stellar Award in 1989 for Best Solo Performance—Male Vocalist, Traditional.
His new association with Malaco also included joining Huey Williams, the Reverend Milton Biggham and Sister Desarie Johnson on Call Him Up from the Mississippi Mass Choir's hit album Live in Jackson, Mississippi. The record remained on the top of Billboard's Gospel Album chart for nearly one year and received four Stellar Awards, as well as Dove and Soul Train Award nominations. Another charting album, Live in Detroit (1992), found Moore covering I Stood on the Banks of Jordan and the classic hymn The Old Rugged Cross.
The Mississippi Mass Choir reciprocated by joining him on his sophomore album for Malaco, Live with the Mississippi Mass Choir. The album produced God Don't Need No Matches and garnered Moore another Stellar for Best Video. The vocalist and choir reprised their successful partnership on 1993's Live at Jackson State University, which generated the popular Joy. This album and 1995's I Will Trust in the Lord received Grammy nominations.
Moore's work was interrupted by serious illness, including kidney failure in 1994 that left him without sight, on dialysis and in a wheelchair. Nevertheless, Moore pressed on, appearing in gospel programs and continuing to record; It Ain't Over (Till God Says It's Over): Live in Pittsburgh came out in 1997. His final recording, Family and Friends: Live in Detroit, took place in February 1999 and was released in March 2000.
After years of battling illness, Moore died at the age of 44 on June 7, 2000, in Memphis, Tennessee. His memorial service took place at Detroit's historic Bailey Cathedral COGIC a week later. Malaco released a memorial album, The Very Best of Rev. James Moore, the following year.