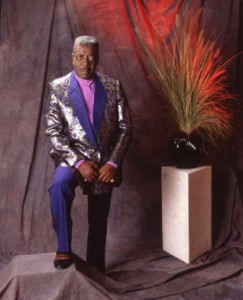 As a singer, pianist, songwriter, arranger, choir director, preacher and entrepreneur, the Reverend James Cleveland was the most influential gospel artist of the second half of the 20th century. He was also the most prolific, having recorded some hundred albums, the vast majority for Savoy Records between 1960 and 1990. Most featured him at the vocal helm of such ensembles as the Cleveland Singers, the Angelic Choir, the Southern California Community Choir and the Charles Fold Singers. He also appeared as a guest soloist on albums in Savoy's "James Cleveland Presents" series by Cora Martin, Sara Jordan Powell, the Voices of Christ, the Salem Inspirational Choir and many others, as well on albums by mass choirs of the Gospel Music Workshop of America, an organization he founded in 1967 that has continued to thrive since his death in 1991.
His "progressive arrangements—jazzy and soulful, complete with odd time signatures—helped push the music past the confines of the traditional Baptist hymnal into new and unexpected directions, infusing elements of the sanctified church and secular pop to alter the face of gospel forever," Jason Ankeny wrote in All Music Guide.
James Edward Cleveland was born on December 5, 1931, in Chicago and made his singing debut there as a boy soprano at Pilgrim Baptist Church, where "the father of black gospel music" himself, Thomas A. Dorsey, was the minister of music and Roberta Martin was the choir's pianist. Cleveland's solid, at times flowery, piano style was influenced early on by Martin, as well as by Lucy Smith. He in turn influenced the piano style of young Aretha Franklin during his mid-1950s stint as minister of music at her father C.L. Franklin's New Bethel Baptist Church in Detroit. Years later, in 1972, Cleveland and his Southern California Community Choir backed Ms. Franklin on her two-million-selling, Grammy Award–winning album Amazing Grace.
Martin took notice of the teenage musician's gifts as a composer and in 1948 published his song Grace Is Sufficient before going on the record several more with her Roberta Martin Singers. Cleveland made his debut on records in 1950 on the Apollo label with the Gospelaires, a group that also included Martin associates Bessie Folk and Norsalus McKissick. Their 1951 recording Oh What a Time was the first to feature Cleveland's distinctive baritone voice.
As a pianist, singer and sometime narrator, Cleveland bounced from group to group between Chicago and Detroit during the 1950s. They included the Gospel All Stars, the Meditation Singers and, most notably, the Caravans.
In 1959, while serving as minister of music at Detroit's Prayer Tabernacle Church, he scored a major gospel hit as lead singer on the 125-member Voices of Tabernacle's The Love of God on the HOB label. The song had been recorded the previous year by the Soul Stirrers, was written by Soul Stirrers' guitarist Leroy Crume and featured the Sam Cooke–inspired voice of Johnnie Taylor. Cleveland's chilling rearrangement became a sensation in the gospel music community and inspired countless choirs from coast to coast.
That recording, along with others for HOB by Voices of Tabernacle and an all-star Chicago group called the Gospel Chimes that also included Jessy Dixon, led Savoy Records in Newark, New Jersey, to sign Cleveland in 1960, thus beginning his decades-long relationship with the label. The biggest of his many hits for the company was 1963's Peace Be Still, Cleveland's adaptation of Master, the Tempest Is Raging, an 1874 hymn composed by Horatio R. Palmer and Mary Ann Baker. Teenage Cleveland protégé Billy Preston was the organist on Peace Be Still, which was included on the third album of eight that Cleveland recorded during the 1960s with Reverend Lawrence Roberts' Angelic Choir of Nutley, New Jersey. The disc sold 800,000 copies, an unprecedented figure at the time for gospel recordings.
At least two of Cleveland's Savoy hits were religious treatments of earlier pop and R&B hits. In the Ghetto from 1973 was a gospel version of the 1969 Mac Davis–penned Elvis Presley hit, and 1975's Jesus Is the Best Thing That Happened to Me, a gospel rendition of the Jim Weatherly composition Best Thing That Ever Happened to Me, a smash for Gladys Knight and the Pips a year earlier. Soul singers, in turn, secularized songs associated with Cleveland, particularly in 1963 when Mitty Collier scored with I Had a Talk with My Man Last Night, an adaptation of his composition of I Had a Talk with God, and Theola Kilgore with The Love of My Man based on his The Love of God. Cleveland also wrote a pop song titled Stop Giving Your Man Away for Laura Lee, with whom he had once performed in the Meditation Singers, as well as in a short-lived gospel trio with Aretha Franklin.
Cleveland relocated from Chicago to Los Angeles in 1963 to become pastor of the New Greater Harvest Baptist Church, where he served for seven years before establishing his own Cornerstone Institutional Baptist Church. The New Greater Harvest choir followed him there and evolved into the Southern California Community Choir, with whom he frequently recorded during the 1970s.
In 1967, he founded the Gospel Music Workshop of America, which holds classes and introduces new songs and singers at its annual conventions. Among the gospel greats for whom the GMWA served as an early career springboard are Yolanda Adams, Daryl Coley, Ann Nesby and LaShun Pace. As of 2016, the GMWA has 111 regional chapters in the United States, Canada, the Bahamas, France and Poland.
James Cleveland, who received four Grammy Awards and was the first gospel artist to have a star on the Hollywood Walk of Fame, left Savoy in 1965 to form his own King James Records but returned to the Savoy fold four years later. Sadly, the renewed association with his old label turned out to be brief. Suffering from respiratory problems, "the king of gospel music," as many knew him, succumbed to congestive heart failure in Culver City, California, on February 9, 1991.
—Lee Hildebrand