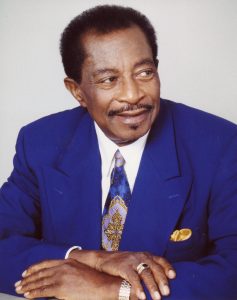 Gospel music is overwhelmingly blessed with singing preachers. One of the most popular during gospel's golden age and beyond was the Reverend Cleophus Robinson. He also opened doors in the gospel music industry for his equally gifted family, especially his sister Josephine James and his wife, Bertha; and the Bethlehem Missionary Baptist Church Choir.
Robinson was born in Canton, Mississippi, on March 18, 1932. He moved to nearby Jackson during his teenage years and worked various jobs to raise the funds necessary to move to Chicago. He arrived in Chicago in 1948, became a member of Greater Harvest Baptist Church and appeared on local gospel programs featuring such leading lights as the Roberta Martin Singers and Mahalia Jackson. In 1949, Evelyn Gay of the Gay Sisters introduced 17-year-old Robinson to Lee Egalnick of Chicago-based Miracle Records. Given their relative obscurity, the two singles Robinson recorded for Miracle must not have sold well.
Robinson moved to Memphis, completed high school and entered LeMoyne College to study drama. He inaugurated a weekly radio broadcast, The Voice of the Soul, from his uncle's Memphis church. The broadcast helped him secure the attention of Peacock Records. On his debut Peacock single, released in 1953, the Spirit of Memphis Quartet provided his background vocals. Even at that early stage in his career, Robinson's husky singing voice evoked gospel star Brother Joe May.
Notwithstanding the quality of Robinson's initial Peacock discs, recording success remained elusive until 1956, when he and his sister, Josephine James, hit pay dirt with a duet called Pray for Me. Their sound, like a more vocally muscular version of the Consolers, delighted gospel music audiences on radio singles such as 1961's Sweet Home. Robinson often engaged his family members to sing with him. In addition to his sister and wife, Robinson duetted with niece Catherine Gill and his mother, Lillie.
Around 1962, Roebuck "Pops" Staples introduced Robinson to Orrin Keepnews of Battle Records, then the label home of the Staple Singers. Parting ways with Peacock, Robinson recorded for Battle, benefiting from Jessy Dixon and the Gospel Chimes as background singers and Staples on guitar. But by 1964, Robinson resumed his relationship with Peacock. As pastor of the Bethlehem Missionary Baptist Church (later named Greater Bethlehem Baptist Church) in St. Louis, Missouri, Robinson regularly included his church choir on his singles and albums.
Robinson also released long-playing albums of his sermons. He gave them such memorable titles as A Haircut in the Wrong Barber Shop, Backsliding Heifer and Hog Dressed in a Tuxedo Suit. In St. Louis, he hosted a weekly radio program called Hour of Faith and, starting in 1964, a gospel television program that aired for more than 20 years. Meanwhile, Robinson appeared on national talk and variety television shows, such as The Merv Griffin Show and The Dinah Shore Show. He toured internationally, singing at the 1967 Spiritual and Gospel Festival in Amsterdam and in 1975 at the Montreux Jazz Festival. He sang at the White House in 1980.
Recording for Savoy Records for a brief spell during the mid-1960s, Robinson created another radio hit by gospelizing Marvin Gaye's How Sweet It Is to Be Loved By You as How Sweet It Is to Be Loved By God.
After a run with Nashboro Records that spanned the 1970s and produced one of his most popular songs, Wrapped Up, Tied Up, Tangled Up, Robinson returned to Savoy Records, recording a half dozen albums as a solo artist as well as with the Combined Choirs of Memphis, Tennessee (God Is Blessing in Every Direction, 1981), and the Swan Silvertones (The Lord Is My Light, 1983). He recorded for Atlanta International Records in the late 1980s.
Live in St. Louis was released on Malaco in 1997 and featured Robinson doing what he loved best: singing alongside members of his family. But it turned out to be his last record. Reverend Cleophus Robinson died at age 66 on July 2, 1998. He was posthumously inducted into the International Gospel Music Hall of Fame four years later. His sons, Malaco artists Shadrach Robinson and Reverend Cleophus Jr., have extended the family's gospel music legacy into the 21st century.
—Robert M. Marovich