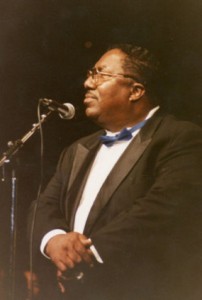 The Reverend Benjamin Cone Jr., known as the "Malaco Pastor," and as a representative of the Seventh-day Adventist Church, a rarity in the gospel music industry, was born in Waycross, Georgia, on September 28, 1937, to Benjamin Cone Sr. and Arline Jones Cone.
In 1972, Cone founded and became the first president of Good Samaritan Ministries. He moved to Mississippi the following year, where he headed the South Central Conference of the Seventh-day Adventist Publishing Department for Mississippi for 25 years, from 1973 to 1998. Cone was ordained in 1979 by the South Central Conference and that same year founded the Citizens Rally Against Crime Program.
Cone's gospel music activities started in earnest in the late 1980s, when he met Frank Williams, a member of the Jackson Southernaires quartet and a Malaco Records executive. Williams shared with Cone his vision for the Mississippi Mass Choir and asked him to be part of the choir's founding. The story goes that Cone agreed but only if the choir would extend an invitation of discipleship on every recording and concert. Williams agreed, and Cone went on to serve as the Spiritual Director for the Mississippi Mass Choir from its inception in 1988 until his death 24 years later.
In addition to his ministerial and choir responsibilities, Cone was also a recording artist. His resonant, authoritative baritone and measured oratory could be heard on Malaco albums with titles that played off of the day's headlines. These included his 1991 album with the Mississippi Mass Choir, It's Hammertime!, 1997's The Trial of Oh Jesus and the post-9/11 Prayer for America. Cone's talent for imparting religious messages through the art of storytelling was best displayed on Birds of the Church (1994), a series of clever sermonettes that likened the conduct of some church members to the natural behavior of specific types of birds.
Cone died on September 16, 2012, less than two weeks shy of his 75th birthday. He left behind Louise Dixon Cone, his wife of 53 years, and five children, including Minister Benjamin Cone III. He was buried in Jackson, Mississippi.
—Robert M. Marovich