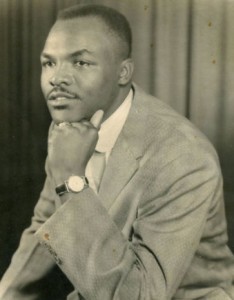 In his short lifetime, the Reverend Wilbert Leo Daniels became a nationally known and respected pastor, singer, radio and television host, recording artist and community leader.
He was born to Cooper and Ira Cook Daniels in Center, Texas, on October 16, 1938, and started his recording career around 1964 with his young wife, Nevarro Dean Daniels. Working within the husband-and-wife gospel singing tradition popularized by the Consolers, the Daniels recorded their first two singles for the Hy-Tone label.
On October 17, 1966, Daniels was named the first pastor of Greater Jerusalem Missionary Baptist Church of Houston, Texas. The 28-year-old church leader secured regional visibility for his flock by broadcasting its worship services over radio stations KCOH and KFMK, and hosting a Sunday morning television program, Gospel Melody Hour, on KHTV. He found affordable housing for local seniors and the disabled and linked people struggling with addiction with self-help programs. Under Daniels' leadership, Greater Jerusalem built a daycare, preschool, kindergarten and elementary school. The church also began construction of a multi-story assisted living facility.
Despite Leo's growing pastoral responsibilities, he and Nevarro continued to record, spending a short but important time with Houston's Peacock Records, starting in 1967. It was for Peacock that Daniels first committed his sermons to vinyl. He understood that by releasing records of his preaching and singing before appreciative congregations, he could, like the Reverend C.L. Franklin, extend his ministry nationwide. When Peacock was sold to ABC Records in 1973, Daniels shifted his recording activities to Jewel Records in Shreveport, Louisiana. His full-length sermons for Jewel carried such memorable titles as The Answer to Watergate, What In Hell Do You Want and The Price is Right.
Daniels suffered a massive heart attack and died at age 38 on April 25, 1977. He was buried in Houston. Two years later, the eight-story, 100-unit apartment building that Daniels had begun was finally completed. It was christened W. Leo Daniels Towers in his memory.
Atlanta International Records (AIR) re-released the late pastor's Jewel catalog of sermons on compact disc. In addition to What In Hell Do You Want, available titles include Too Fat to Get to Heaven, Use It or Lose It, Let's Make a Deal and Put Down Your Whiskey Bottle. Meanwhile, Leona Daniels, Leo and Nevarro's daughter, carries on the family singing tradition. She released her gospel album, Free to Be Me, in 2012.
—Robert M. Marovich