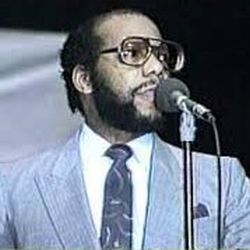 The Reverend Jasper Williams Jr.'s sizable repertory of recorded sermons with provocative titles extended his ministry far beyond the four walls of his church. Born in Memphis, Tennessee, on July 22, 1943, he was the oldest child of the Reverend Jasper Williams Sr. and Alice Stewart Williams.
Williams' father pastored Memphis' Lane Avenue Baptist Church and had a broadcast over influential local radio station WDIA. He encouraged six-year-old Jasper Jr.'s eagerness to preach in public, despite the scorn of pastors who believed the child was too young to deliver the word.
Jasper Jr. continued preaching, nevertheless. He enrolled in Atlanta's Morehouse College and, intent on serving as associate pastor of Lane Avenue after graduation, began preaching at churches around Atlanta. Members of the city's historic Salem Baptist Church heard him and invited him to visit Salem. On April 14, 1963, the 19-year-old Williams preached the sermon for Salem's Easter service. The congregation was so smitten that it called him to be the church's pastor, a call he accepted in November of that year.
After carefully practicing the oratorical skills of his hero, the Reverend C.L. Franklin, Williams made a vanity recording and presented it to Stan Lewis of Shreveport, Louisiana's Jewel Records. Lewis, who launched Jewel's spiritual album series with sermons by Revs. R. David Holloway and O.L. Holliday, liked the demo and invited Williams to record sermons for Jewel. His efforts produced popular titles such as Clear Shining After the Rain (1967), Jesus' Funeral (1968), The Beloved Prostitute (1968), I'm Black and I'm Proud (1968) and If Walls Could Talk (1970).
Williams ceased recording for a time in the 1970s to focus on developing his church. Then, in 1979, he purchased Church Door Records from Herb Lance. Gospel singer Dottie Peoples, a member of Salem Baptist who had been helping Lance operate the label, encouraged her pastor to resume recording. Among Williams' releases on his own imprint were the sermon I Fell in Love with a Prostitute and the two-disc Rev. Jasper Williams, Jr. Sings (1982). A Good Soldier (1984) was a recording of the sermon he preached at the funeral of his oratorical mentor, Rev. C.L. Franklin. The album, which included a copy of Franklin's obituary, landed on the Billboard Top Gospel Albums chart. Other cleverly titled sermons Williams released on Church Door were When God Decided to Go on Strike, Playboy Comes Home and What a Chicken Saw.
When Williams retired Church Door, Atlanta International Records released material from the Church Door catalog. Recently, however, Williams has resumed Church Door to issue CDs on which he and his son, Joseph L. Williams, perform traditional songs with a new school flavor.
Among Williams' honors are the Rev. C.L. Franklin Masters Award, NAACP Award and the Award of Excellence from the Gospel Music Workshop of America. He has also received an honorary Doctor of Divinity degree from Temple Bible College and Seminary.
—Robert M. Marovich