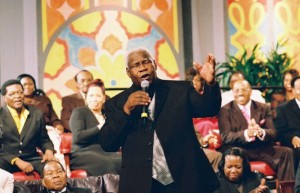 The Barnes Family of award-winning gospel singers, directors, songwriters and musicians originated in the ministry of its family patriarch, the Reverend F.C. Barnes.
Fair Cloth Barnes was born in Rocky Mount, North Carolina, on June 22, 1929. As a youth, he sang in the Marks Chapel Baptist Church choir, and he received the call to ministry in 1955. Barnes completed ministerial training at United Christian College in Goldsboro, North Carolina, and began preaching in 1957. In 1959, armed with a doctorate degree, Barnes organized the Red Budd Holy Church in Rocky Mount.
Like many pastors, Barnes secured a regular radio broadcast for his church services. The Reverend Janice Brown, a Rocky Mount resident and Red Budd's assistant pastor, read the announcements on the radio. She was to sing a solo on one of the broadcasts and when Barnes jumped in to sing with her, the solo became a duet. The audience was thrilled. The new duo began to receive invitations to sing for local church programs and revivals. Listeners also wanted the duo to record. A couple of early albums for Atlanta International Records (AIR) did fairly well, but the team didn't hit solid gold until 1983, when they recorded the simple and catchy Rough Side of the Mountain.
Their shared fondness for church hymns led Barnes and Brown to compose Rough Side so it sounded as if it was from an old hymnbook. "The economy was down [at the time]," Brown recalled in a 2013 radio interview. "A lot of people were having problems financially and with their children and other things. Rough Side of the Mountain touched the heart of people." The record was certified gold by the Recording Industry Association of America (RIAA) and is reported to have sold a half million copies in two years.
The duo's signature sound, with a folksy, down-home sincerity reminiscent of the Consolers and 1920s-era husband-and-wife singing evangelists, was so popular it put AIR on the gospel industry map. In addition to Rough Side of the Mountain, other Barnes and Brown records that entered Billboard's Top 10 Gospel Albums included No Tears in Glory (1984), Hold On (1985) and Can't You See (1990). Songs that were Barnes and Brown fan favorites included When It Rains, It Pours, No Tears in Glory, Hold On, Uncloudy Day and The Lord Will Fix It For Me. The duo's winning streak ended in 1989 when they parted ways. Brown married and became pastor of a United Holy Church (she is singing again, this time with husband Monte Stephens as Ebony and Ivory Ministries). By the late 1980s, Barnes had assumed the pastorate of St. Paul Holy Church in Maple Hill, North Carolina, in addition to his responsibilities for Red Budd.
In 2009, the 80-year-old Barnes (by then a Bishop) was once again heard over gospel radio when he joined Malaco executive Darrell Luster on the AIR/Malaco single God Is God (He Won't Change). The song followed the formula that launched Rough Side of the Mountain: a new composition written to sound as if it had been sung in country churches for decades. The Old Time Way, the album that featured the single, was nominated for a Stellar Award.
Bishop F.C. Barnes did not have much time to enjoy his newfound chart success. He died in Greenville, North Carolina, on July 11, 2011. His funeral was held at his beloved Red Budd Holy Church.
—Robert M. Marovich