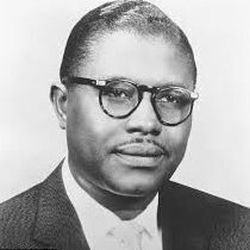 Among recording preachers of the 20th century, the Reverend C.L. Franklin was one of the most popular, most powerful and most emulated. His technique combined the even-toned oratory of college-educated Protestant ministers with the explosive whoops and hollers of African American folk preaching. As Franklin related to historian Jeff Todd Titon, his purpose was to reach congregants' "minds as well as their emotions."
He was born Clarence LaVaughn Walker on January 22, 1915, near Indianola, Mississippi, to sharecroppers Rachel and Willie Walker. Willie abandoned the family when Clarence was four years old, and when Rachel married Henry Franklin, the family adopted the Franklin surname. C.L. grew up listening to blues records by Blind Lemon Jefferson and Roosevelt Sykes but also to recorded sermons by the Reverend J.M. Gates.
Inspired to preach after admiring the eloquence of Baptist minister Reverend Benjamin J. Perkins, Franklin accepted the call to ministry and was ordained around age 17. He preached for several churches in Mississippi until settling into a pastorate at New Salem Baptist Church in Memphis, where he remained until 1944. While in Memphis, Franklin furthered his studies at LeMoyne College. From 1944 to 1946, he led Friendship Baptist Church in Buffalo, New York, and in June 1946, was installed as pastor of New Bethel Baptist Church in Detroit, Michigan.
By harnessing the power of radio and records, Franklin built New Bethel into an influential ministry not only in Detroit, but throughout the nation. Around 1952, Franklin brokered time on WJLB to broadcast New Bethel's Sunday evening service on radio. As early as 1949, local record store owner Joe Battle began recording Franklin's singing and his sermons. By 1953, Battle was pressing the recordings on his J-V-B label and selling them from his shop. He leased the recordings to Chess Records of Chicago, which issued Franklin's sermons on its own imprint starting in 1956. Chess continued the relationship with Franklin after the J-V-B issues ceased, even establishing a special "Sermon Series" devoted almost exclusively to his lessons, recorded live in service at New Bethel. During the 1970s, Franklin's sermons were released by Stan Lewis' Jewel Records.
Franklin's recorded sermons sold millions of copies. One of the most popular, The Eagle Stirreth Her Nest (ca. 1953), was inducted into the Library of Congress National Recording Registry. Other popular Franklin recorded sermons were Dry Bones in the Valley (mid-1950s), Pressing On (ca. 1955) and The Prodigal Son (ca. 1954). It is estimated that he recorded 76 sermons in his career. Many preachers emulated Franklin's style of starting a sermon with a learned exposition of the text and concluding with the half-sung, half-shouted folk poetry characteristic of the African American church.
Known as the pastor with the Million Dollar Voice, Franklin could also sing his congregation into spiritual hysteria. His two-sided recording of the lining hymn I Love the Lord, He Heard My Cry is one example of how with just a line or two of sung verse Franklin could send congregants, females in particular, into audible fits.
Franklin married Barbara Siggers in 1936. Before her death in 1952, Barbara gave birth to four children: Erma (1938), Cecil (1940), Aretha (1942) and Carolyn (1944). Aretha, named for one of C.L.'s sisters, sang at her father's worship services and accompanied him when he toured the country with the Ward Singers and other top gospel artists. She made her own recording debut at New Bethel in 1956 during one of her father's services; likewise, Franklin appeared on Aretha's albums of gospel music.
In addition to his church ministry, Franklin participated in the Civil Rights Movement. He helped bring the Reverend Dr. Martin Luther King Jr. to Detroit in 1963, where King presented an early version of his I Have a Dream speech. Franklin helped end discrimination against African American members of the United Automobile Workers union.
On June 10, 1979, Franklin was shot trying to foil a robbery in his church. He remained in a coma for five years and passed away on July 27, 1984. His funeral was one of the largest Detroit had seen at that time.
As a testament to the timelessness of the Reverend C.L. Franklin's teaching, Malaco Records has made many of his most popular recorded sermons available on CD.